Welcome to HutchBook.com!
Note: Permission is granted to quote information from this site only if credit is provided by properly citing the source, including the HutchBook.com URL.
Seeking information about specific Hutchinson bottles? Click the Bottle Directory button in the navigation panel on the left side of the screen to access the HutchBook database cataloguing over 17,800 different Hutchinsons!
Thinking of contacting us? Click the Contact Us button in the navigation panel on the left side of the screen to review our guidelines and contact information.
Looking for a specific Home page article? When each new edition of "Hutchinson Highlights" is posted, the previous articles are moved to an indexed page accessible by clicking this "Archived Hutchinson Highlights" link.
◄◄ Hutchinson Highlights ►►
Posted: December 1, 2013
NOVEMBER HUTCHBOOK HAPPENINGS
November was another month of major accomplishments. I managed to close another estate and finally relieve myself of personal representative/executor responsibilities. On a much more positive note, we delivered Charles David Head's newly completed book project, A Head's Up On Koca Nola, to the printer. Charles and I are eagerly anticipating a call from the printing plant to pick up the books. The bulk of the rest of my November hours were devoted to preparing and adding more images to the HutchBook database. In between everything else I have increased my weekly running mileage in preparation for today's Seattle Marathon. This is the 33rd time I have done that race and marks my 35th anniversary of running marathons.
We are rapidly closing in on the 1,900 hour mark for the number of hours invested into the Hutchinson Bottle Directory since January 1, 2013 and it appears we will finish the year well in excess of 2,000 hours. We have still missed only the one daily HutchBook database update this year.
Unfortunately, with so many of my hours devoted to estate tasks and Charles' book, something had to give and that continues to be HutchBook EMail. The last time I peeked at the INBOX total, there were over 260 messages waiting to be read. The bulk of those messages include Hutchinson photos (keep them coming!) that I will hopefully be able to process during December. Thanks for your patience, everyone!
This month's edition of Hutchinson Highlights is missing two of the regular features I have been trying out this year. Due to lack of input, I am dropping the Featured Bottler article. There's also no Hutchinson Collector Profile this month because I didn't have time to coordinate an interview.
During the last two weeks, several EMail messages have arrived that are both encouraging and discouraging. These messages came from collectors who are only now discovering HutchBook.com. The good news, of course, is they somehow found the site and are enthused about becoming actively involved with our project. The bad news is I am left wondering how they could possibly have missed our press releases, magazine articles and advertisements, active participation at the FOHBC Expos, links at numerous other antique bottle-related web sites, etc. If you have any suggestions on how we can better advertise HutchBook.com, by all means let me know!
During 2013 we have updated 5,488 HutchBook database listings. That number includes cataloguing 636 newly identified Hutchinson bottles, boosting the grand total number of Hutchinsons catalogued to 17,907.
HUTCHBOOK PHASE III (ADDING IMAGES) UPDATE
During October another 1,000 images were added to the HutchBook database. Once again new images were added daily all month long. The postings that will be uploaded later today include the illustrated example of a PA2625 - Wm A. KEARNEY / SHAMOKIN / PA. amber quart. This bottle will boost the grand total number of bottles posted over the 4,500 mark. Preparing and adding images to the HutchBook database continues to be our highest priority.
PA2625
Please continue to help us grow and improve the quantity and quality of data and images catalogued in the HutchBook.com database:
If a bottle listing's Comment field indicates "(need better image)" and you can provide one, please do so;

If a bottle listing has an "unknown" data field entry and you have/know of an example of the bottle, please send us the missing data; and

If you look up a bottle and no image is posted and you can provide an image, please do so. Our preference is full frontal images with as plain a background as possible.
EMailed images should be send to HutchBook@yahoo.com. Thank you.
A HEAD'S UP ON KOCA NOLA IS AT THE PRINTING PLANT!
Charles David Head's new book documenting the history of the Koca Nola Company was delivered to the printer November 18th, the proof copy was approved within three days, and we will hopfully have copies in hand this coming week. Charles has invested many years into researching Koca Nola and the resulting book is well worth the wait. I have an advantage, of course, because I am intimately familiar with the book's content. All year long I have worked closely with Charles to prepare the final version for printing. As soon as copies are available, complete ordering details will be posted at www.KocaNola.com, of course, as well as in the "Bottle Books For Sale" portion of HutchBook.com's "Collecting" section. For a preview of what is coming (just in time for Christmas!), check out the new A Head's Up On Koca Nola page! Here's an example of one of the 26 color plates in the book: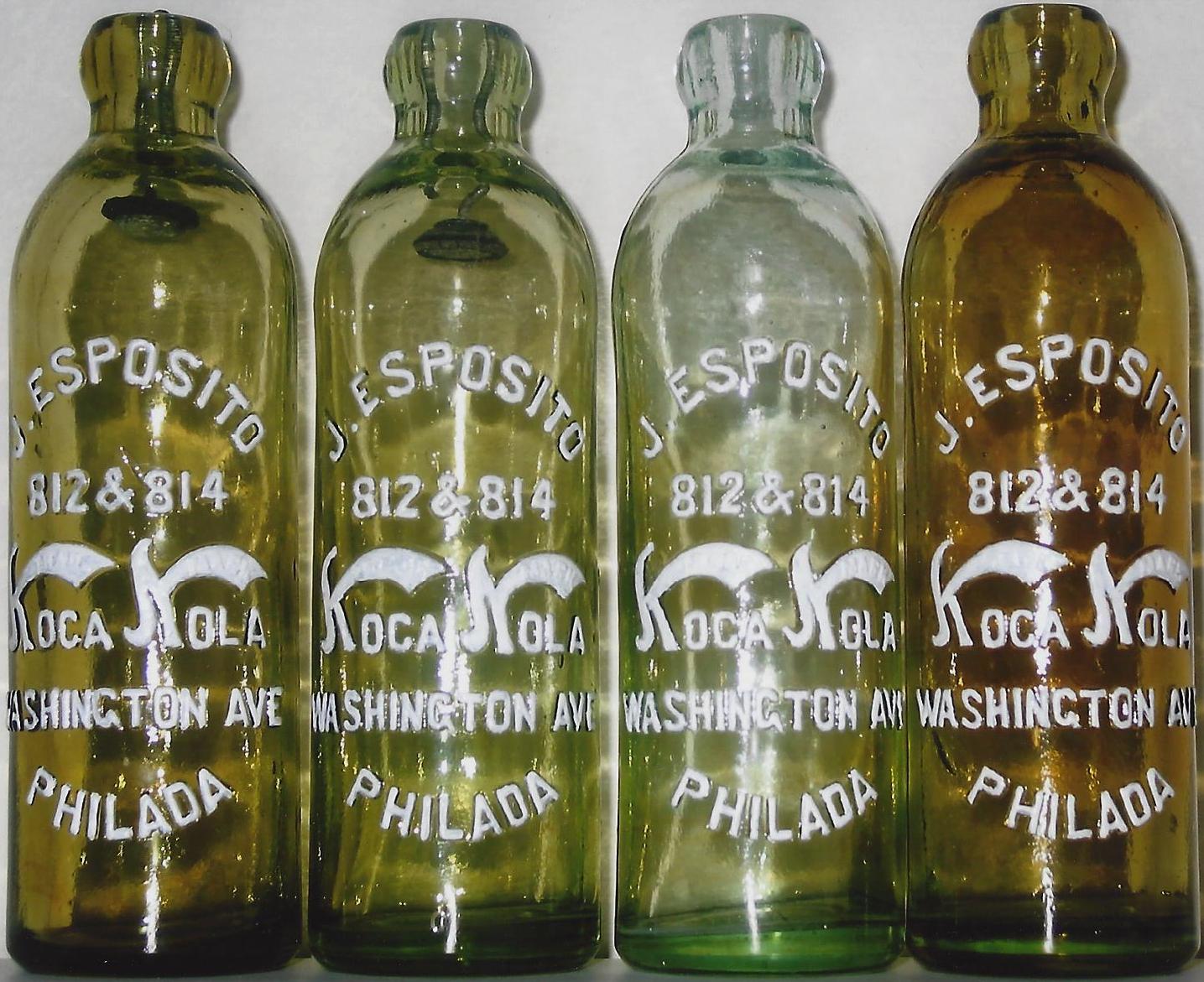 Figure 90: Left to right, citron, straw yellow, aqua, and light amber Esposito Hutchinsons with painted embossings (photo courtesy of R. J. Brown). A Head's Up On Koca Nola, © 2013 Charles David Head.
TOMMY MITCHINER: 1947-2013
As briefly mentioned in the September HutchBook Happenings, well-known collector Tommy Mitchiner, our long-time Georgia Hutchinson Specialist, passed away this past August. Be sure to read the very well-written tribute to Tommy authored by Bill Baab on pp. 37-38 in the November, 2013 issue of Antique Bottle & Glass Collector magazine. Tommy's passing is a major loss for the antique bottle collecting community. Our sincere sympathies to his wife and family.
RARE OAKMAN, ALABAMA HUTCHINSON REPORTED!
This week's EMail brought a message from Louis Owens providing full data and photos for AL0262, a beautiful SIDE BROS. / BOTTLERS / OAKMAN, ALA. Hutchinson. Our Alabama file includes a May 20, 1978 note from the late Ralph Long when he submitted data on this bottle to the late Joe Nagy. Here's what Ralph had to say about this Rare bottle over 35 years ago:
Joe - I finally got the Sides Bros. information...As far as I know, it is a one-of-a-kind Hutch. My brother-in-law is a Sides and he came, or his family came, from the Oakman area, a very small Alabama town...When he found out about the Sides Bros. Hutch, he did some research for me and found out that the company was started by two of his great or great-great uncles. They opened the business in Oakman and operated only about three months because the water there was no good at that time.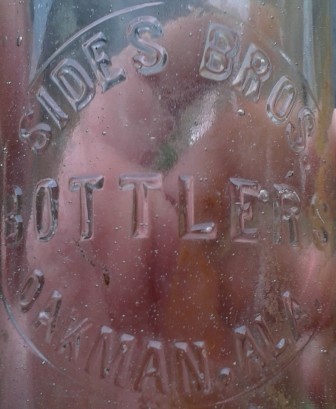 AL0262 (courtesy of Louis Owens)
Wikipedia provides only limited data about Oakman, indicating the town is located in Walker County, Alabama, and a population of 944 at the 2000 census.
The Encyclopedia of Alabama (www.EncyclopediaOfAlabama.org) includes this information about Oakman:
Oakman is located in...the west-central part of the state...Oakman is one of only four towns in Alabama whose town limits form a circle.
The Oakman area initially was settled in the early to mid-1820s. The community was first called York after the first post office of that name, which opened in 1860. It was renamed Day's Gap after a prominent local landowner, part of whose property consisted of a valley (known in local parlance as a "gap") between two mountains that led into Oakman.
The community remained relatively small until 1884, when a line of the Georgia Pacific Railroad came through and made Oakman a shipping center for the county. The opening of a coal mine nearby also contributed to Oakman's growth. Oakman was the first city in Walker County to install telephone lines. At one time the town had five saloons, which were kept busy by farmers coming into town to sell and ship their crops.
The origin of the town's name is uncertain. In the more colorful version, a man by the name of Oakman passed through town and offered authorities $10,000 to name the town after him, to which they readily agreed. The more likely story is that the town was named to honor W. G. Oakman, a vice-president of the Sloss-Sheffield Iron and Steel Company who also had allegedly made a large donation to the town. Whatever the case, the town changed its name from Day's Gap to Oakman in 1894. Oakman incorporated in 1895, and the town charter was amended in 1898.
J. C. HELB: HANOVER and SHREWSBURY, PENNSYLVANIA, AND...MANCHESTER, MARYLAND!
Yesterday's EMail brought photos and data for the illustrated J. C. HELB Hutchinson. Helb is one of those unusual names that sticks in one's mind and I definitely remembered cataloguing other Helb Hutchinsons. A quick Hutchinson Search produced a list of five different Hutchinsons bearing the Helb name, including two that are specifically embossed J. C. HELB. These five bottles are all from either Hanover or Shrewsbury, Pennsylvania. So what? Well, the newly catalogued bottle is embossed J. C. HELB / MANCHESTER / MD. It appears that J. C. Helb was a three town, two state Hutchinson bottler! A check of our files and library didn't produce any specific historical information about Helb, so we don't know if he was operating three different bottling plants simultaneously, but that is certainly possible, given that the towns of Hanover, Shrewbury, and Manchester are situated closely together. That said, one must remember Helb was in business during the 1879-World War I Hutchinson Era, before motorized transportation became commonplace and greatly simplified the delivery of products such as soda. If Helb was delivering his products via horse-drawn wagons, the odds are high that he established bottling plants in each of these three separate locations. That theory would also be supported by the ordering of bottles embossed with his name and town name so customers would (hopefully) return them to the correct location. If anyone has researched primary sources for historical information about J. C. Helb, please let us know.
MA0073.5 (photo courtesy of David Holden)
Here's a portion of a Wikipedia article about Manchester:
Manchester is a small incorporated town in northeastern Carroll County, Maryland...just south of the Pennsylvania state line and north of Baltimore. The population was 4,808 at the 2010 census...
Manchester lies in the humid continental climate region, marked by cold and snowy winters but humid and hot summers. This climate is ideal for growing farmed crops in the summer such as sweet corn and squash, leaving much of the outlying area marked with large tracts of farmland. Manchester is a rural commuting town where residents travel to work in the greater Baltimore Metropolitan Area and the greater Washington Metropolitan Area.
The Town of Manchester, officially incorporated in 1834, was originally known as "Manchester Germantown." However, the name Germantown referred to a community west of Manchester that was later incorporated with the town. The town was originally laid out in Baltimore County and remained a part of that county until the creation of Carroll County on January 19, 1837.
Prior to European colonization, the Susquehannock people occupied the territory now within the borders of Manchester. At the center of town stands an intersection of what were once two important Native American trails. One part of the trail connected the Potomac and Susquehanna rivers, and the other ran from the Conewago River to the Patapsco River...
The first settlers were English but later immigration brought people of German descent...In 1765 Captain Richard Richards was granted a tract of 67 acres of land which was named "New Market," adjoining the existing land grant of "German Churche." Richards laid out the town of Manchester, naming it after his home town in England.
From the 18th century until the earliest parts of the 20th century, the primary languages spoken by the residents was German, or Pennsylvania Dutch. The custom of the German residents of making noodles and stringing them on lines outside their homes would give the town the nickname "Noodle Doosey." Later, Manchester would receive another nickname when the German custom of making ginger cakes brought on "Gingercake Town." Manchester was also a relatively large cigar manufacturing town, from after the Civil War until around 1930, when the mass production of cigars made the manual method in use in the town less economical...
During the American Civil War, Manchester was used as a camping area for the Union Sixth Army Corps under General John Sedgwick on July 1, 1863. The next day, the army made its march to the Battle of Gettysburg.
FEATURED PATENT: ARTHUR CHRISTIN BOTTLE STOPPER - APRIL 13, 1875
HutchBook.com provides extensive material about closure patents that are frequently confused with Hutchinson's Patent Spring Stoppers. Individual articles about over 30 patents include illustrations, selected portions of the inventor's original description detailing how the closure functioned, and additional comments specifically prepared for users of HutchBook.com. These brief overviews highlighted in each edition of Hutchinson Highlights are not being archived in favor of directing users to the complete list of featured "Stopper Patents" posted in the Industry History section.
This edition of Hutchinson Highlights focuses on the Arthur Christin Bottle Stopper, patent number 161,863 issued April 13, 1875.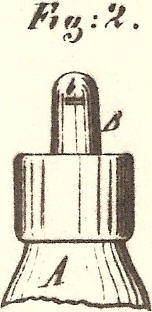 Arthur Christin's patent application was filed December 21, 1874 and specified:
I, Arthur Christin, of Chicago…Illinois, have invented an Improvement in Bottle-Stoppers…the nature of my invention relates to an improvement in bottle-stoppers of that class that are more especially intended to be used in bottles containing mineral waters and other gaseous fluids under pressure; and it consists in a tapered glass stopper of such length that it cannot turn in the bottle, in combination with a rubber, cork, or other ring expanded into a recess in the neck of the bottle, the said stopper having a socket formed in each side of its upper or smaller end, to enable it to be grasped by a pair of tongs while the bottle is being filled.
Figure 1 is a vertical section of a mineral-water bottle fitted with my improved stop and collar. Fig. 2 is a side elevation of the neck and stopper.
In the drawing, A represents a bottle an annular groove or recess molded in its neck to receive an annular collar, a, of India-rubber, cork, or other suitable material, which can be expanded into it. B is a tapered glass stopper, of such length that it cannot turn in the bottle, and which is to be inserted before the collar a. The top of the stopper has a pair of sockets, b, molded in its top, on opposite sides, or a mold may be molded entirely through, to receive the lower ends of a pair of tongs to hold it up while the bottle is being filled, drawing the stopper into the collar when

the bottle is full, after which the internal pressure forces the stopper farther into said collar, and thus prevents leakage. To open the bottle, it should be reversed, and the stopper pushed inwardly.
Despite obvious similarities between this patent and John Matthews' Gravitating Stopper, the U.S. Patent Office approved Christin's "improvements." Arthur Christin utilized his stopper at his own Chicago bottling plant until converting to bottles utilizing Hutchinson's Patent Spring Stopper in the early 1880s. Christin achieved very limited marketing success with his closure, with only a handful of bottlers in Alabama, Illinois, Indiana, Louisiana, Massachusetts, Michigan, New York, and Wisconsin known to have used his stopper. It is easy to differentiate between Christin and Hutchinson bottles because of the large, horizontal groove in the mouth of the Christin bottles. Here's a link to the HutchBook listing for this patent:
Two bottles that utilized Arthur Christin's Bottle Stopper are currently listed on GreedyBay. Both examples were manufactured for Diego Palliser in Mobile, Alabama, a bottler who subsequently employed a wide assortment of Hutchinsons. The illustrated image accompanies the listing for #200936752535. The bright green item at the top is something the seller attached in order to hold the stopper in place while taking the photo. The other listing is #221325567399.
WHAT'S IN A NAME: BURNT CABINS, PENNSYLVANIA
During the process of cataloguing over 17,900 different Hutchinsons, numerous unusual town names have caught our eyes. One of our favorites has long been "Burnt Cabins" in Pennsylvania. We have identified five different Hutchinsons from Burnt Cabins, and while recently posting the accompanying image of PA0319 we finally took time to learn something about the origin of the town's name.
PA0319
Here's a portion of the information posted at Wikipedia:
Burnt Cabins is a historic unincorporated community in Dublin Township, Fulton County, Pennsylvania, at the foot of Tuscarora Mountain. It is about 3 miles west of the Tuscarora Mountain Tunnel on I-76 (Pennsylvania Turnpike) and the turnpike runs within 100 yards of the village. U.S. Route 522 also runs through the village.
The land was owned by Native American tribes until 1758, and permanent European settlement did not start until 1763, after the French and Indiana War. Nevertheless by 1750, a hamlet known as Sidneyville had grown to 11 squatters cabins. The homes of these early settlers were burned by order of the provincial government to maintain the peace and to demonstrate to Native Americans that their ownership would be respected...
The area developed as a linear village along eighteenth century roads that led from Philadelphia across the Tuscarora and Allegheny Mountains to Pittsburgh. Burnt Cabins first developed along a pack horse trail that generally followed an earlier Indian trail. In 1755 the Forbes Road expanded the trail to get British troops and supplies in place to take Fort Duquesne. In 1771 the Three Mountains Road was opened to connect Burnt Cabins more directly to Shippensburg. However by 1815 the Chambersburg and Ft. Bedford Turnpike was opened, bypassing both Burnt Cabins and Shippensburg from the most direct route between Philadelphia and Pittsburgh. Surprisingly, Burnt Cabins benefited by being bypassed by the turnpike, as the county population grew and drovers used the older, free roads to take their cattle to market.
The entire village, consisting of about 44 buildings and 50 acres, was listed on the National Register of Historic Places in 1998. The village's development was most influenced by the construction of the Burnt Cabins Grist Mill, which still produces flour and is listed separately on the National Register of Historic Places.
HutchBook.com Development
HutchBook.com is designed to serve as a widely used reference source that will benefit collectors, historians, archaeologists, and other interested users. The Hutchinson Bottle Collectors' Association (HBCA) sponsors free public access to HutchBook.com. HBCA members support and promote historical research by collecting, preserving, studying, documenting, displaying, communicating, and sharing information about the antique bottles that utilized Charles G. Hutchinson's Patent Spring Stopper.
Since the Hutchinson Bottle Directory initiative's founding in 1976, over 1,000 people have contributed bottle data and related information for this project. The following portions of the site document the project's historical development:
HutchBook.com Implementation
Phase I: Hutchinson History
(launched September 30, 2009)
HutchBook.com Phase I focuses on historical development of the North American soft drink industry during the 1879 to World War I Hutchinson Era. Site content includes extensively researched, factual documentation concerning: the origin of the term "soda pop;" the evolution of bottle closures, including 30+ stopper patents often confused with Hutchinson's Patent Spring Stoppers; a history of the W. H. Hutchinson and Son company; Hutchinson's lawsuits; the American bottling system; pre-Hutchinson Era bottling; Hutchinson bottles; the Hutchinson bottling process; and much more. Printed out, the content is 300+ pages in length!
Phase II: Bottle Directory
(launched August 1, 2012)
HutchBook.com's newest feature is the Hutchinson Bottle Directory, a fully searchable, free access database cataloguing extensive data about over 17,800 different Hutchinson bottles. The powerful new "Hutchinson Search" engine is a gateway to detailed data about the Hutchinson bottles utilized in all U.S. states and territories, Canadian provinces, and several foreign countries. Users have access to numerous pre-defined, printable lists of Hutchinson bottles, plus lists of bottles in popular collecting categories, such as colored and picture Hutchinsons. The database is continually updated to ensure users have access to the most current and accurate Hutchinson information available.
To access the database and its related features, click on the Bottle Directory link located in the left side navigation bar on any HutchBook.com page.
Phase III: Bottle Illustrations
(commenced August 1, 2012)
Phase III is the addition of photographs, scans, and computer-assisted drawings to accompany individual Hutchinson bottle listings. A small sampling of images is now on-line, with thousands more scheduled for posting in months to come.