Hutchinson Bottle Sales Guide
Updated: September 2, 2016
Note: Much of the following information is quoted from Collecting Soda Pop Bottles by Ron Fowler, © 1984 and 2006 (visit the "Bottle Books For Sale" portion of the Collecting section of HutchBook.com for additional information and ordering details). Permission is granted to quote HutchBook information only if the source is properly cited, including the HutchBook.com URL.
IS THE BOTTLE A "TRUE" HUTCHINSON?
Glass manufacturers and bottlers referred to the bottles that utilized Hutchinson's Patent Spring Stoppers as "Hutchinson" or "Hutch" bottles. The accompanying illustration from an 1886 issue of the National Bottler's Gazette magazine pictures a typical Hutchinson bottle with one of Hutchinson's Patent Spring Stoppers in the closed position:

Compare your bottle with the illustration shown above and if it does not match this image, it may not be a true Hutchinson. Bottles that utilized other types of external and internal closures are not Hutchinsons. Here are several illustrations and brief descriptions of bottles that are often incorrectly identified as Hutchinsons. Links are provided to additional details in the "Stopper Patents" portion of the Industry History page at HutchBook.com: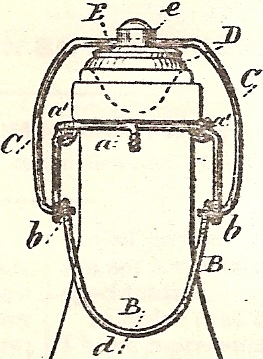 Blob Top Gravitating Stopper Baltimore Loop Lightning Stopper
BLOB TOP (also referred to as "pony") soda bottles were sealed by a cork inserted into the mouth of the bottle. The corks were held in place by either (1) wire fasteners attached directly under the blob top and swung into place over the top of the cork, or (2) a simple wire strand twisted around the neck below the blob top, looped over the top of the cork, and then again twisted around the neck below the blob top;
Henry W. Putnam Stopper Fastening
GRAVITATING STOPPER bottles typically have narrow, tapered shoulders and are base-embossed with Matthews' 1864 patent information. This closure featured a glass rod with a bulb-shaped gutta percha (rubber) gasket on one end that "gravitated" to the bottle's mouth after filling, self-sealing against the inside, steeply-sloping shoulders of the bottle;
John Matthews Jr. Bottle Stopper
BALTIMORE LOOP SEAL bottles utilized an external, hard rubber disk that fit into a horizontal groove inside the mouth of the bottle. This closure was typically used for bottles that contained beer;
William Painter Bottle Stopper
LIGHTNING STOPPER bottles had ceramic stoppers with a wire bail and rubber gasket;




Roorbach Closure Stewart's Codd Crown Cork
ROORBACH CLOSURE bottles typically have embossed patent dates of February 20, 1883, June 23, 1885, and August 4, 1885 on their sides down near the base of the bottle. An imprisoned, small, hollow, brown ball sealed against a hard rubber gasket inserted into a horizontal groove inside the mouth of the bottle;
William L. Roorbach Bottle Stopper
STEWART'S FLOATING BALL STOPPER bottles have a very wide mouth with a horizontal groove that held a rubber washer, and a ball that sealed against the washer;
William Stewart Bottle Stopper
CODD bottles (often referred to as "marble" bottles by collectors) utilized a glass ball that sealed against a rubber or cork ring inserted into a groove in the mouth of the bottle; and
CROWN CORK CLOSURES ("bottle caps") were patented in 1892 and are still in use today. Bottle manufacturers began implementation of Owens' Automatic Bottle Machine in 1903, bringing the soft drink industry inexpensive, standardized, bottle tops. This development, combined with inexpensive crown seals, rendered most other closures obsolete, and by the end of World War I crown cork closures were the industry standard.
In addition to the multitude of closure patents covered in the "Stopper Patents" portion of HutchBook.com's Industry History pages, other web sites and several books about antique soda bottles provide detailed illustrations and descriptions that help with the correct identification of closure styles. An excellent reference source is David Graci's book on Soda and Beer Bottle Closures 1850 - 1910 (additional information and ordering details can be found in the "Bottle Books For Sale" portion of HutchBook.com's Collecting section).
HUTCHINSON BOTTLE SALES LISTINGS
When preparing Hutchinson sales listings, consider utilizing each of the underlined headings specified below as a listing format. Here is a sample sales listing, followed by a detailed explanation of each line of data:
Classification: Collectibles, Bottles & Insulators, Bottles, Antique (Pre-1900), Sodas
Subject Line: Rare Vancouver Washington Hutchinson Soda Bottle With McArty Spelling Error
Photograph(s): Accompanying photo shows front embossing

HutchBook.com Bottle Number: WA0136
Front Embossing: VANCOUVER SODA / WORKS / STRICKER & / McARTY / VANCOUVER. WASH.
Back Embossing: Blank
Base Embossing: Blank
Mold Type: 2 leaf
Glass Color: Aqua
Dimensions: 6.375" x 2.500"
Plate Mould Shape: Round
Bottle Shape: Round
Condition: Sparkling mint; stopper missing rubber disk
Comments: Errors: (1) McARTY should be McCARTY and (2) period after VANCOUVER. instead of comma; "Rare" per HutchBook.com and Washington Sodas: The Illustrated History of Washington's Soft Drink Industry copyright 1986 by Ron Fowler.
CLASSIFICATION: When listing at an on-line auction site, classify your Hutchinson bottle under Collectibles, Bottles & Insulators, Bottles, Antique (Pre-1900), Sodas. Focus on making it as easy as possible for potential bidders to find your listing when searching for Hutchinson bottles!
SUBJECT LINE: Include the word "Hutchinson" or "Hutch" in your subject line and listing text so potential bidders will find your listing when performing searches. Spell the word(s) Hutchinson and/or Hutch correctly; spelling errors such as "Hutchison," "Huchison," "Hucheson," and 'Huch" will not be found by search engines! Incorporate the bottler's city and state/province into the subject line description so your listing will also be found by potential bidders who search for/collect items from specific geographical areas.
HUTCHBOOK.COM BOTTLE NUMBER: Specifying your bottle's HutchBook.com database identification number will help potential buyers accurately identify your bottle. Indicate your reference source is HutchBook.com.
PHOTOGRAPH(S): Hutchinson bottles are challenging to photograph because their sides are curved and reflect light, and the front embossing often wraps around the sides of the bottle, out of view of a camera lens. With practice, anyone can produce effective images that will contribute positively to the sales process. At a minimum, post a photograph showing the entire bottle, including the front embossing. Additional close up photographs showing front, back, and base embossing plus any damage are also desirable. Edit and crop images to eliminate background distractions and provide potential buyers with large, sharply-focused images.
FRONT EMBOSSING: Describe the exact front embossing in CAPITAL letters, including all punctuation. Use slash marks to represent line breaks in the lettering. The front embossing for the illustrated example is properly described as VANCOUVER SODA / WORKS / STRICKER & / McARTY / VANCOUVER. WASH.
BACK EMBOSSING: Describe the exact embossing (including line breaks) on the back of the bottle, e.g. THIS BOTTLE / NOT TO / BE SOLD / REGISTERED, and include maker's marks such as I.G.Co., N.B.B.G.Co., PCGW, ROOT, WISC. G. CO. MILW., etc. Maker's marks are typically found near the heel. Describe all monograms, pictures such as stars and animals, etc. If the back is totally unembossed, specify it is blank.
BASE EMBOSSING: Describe the exact base embossing (including line breaks), e.g. 329 / H, or K. HUTTER / 10 / B / NEW YORK, or THE LIQUID, monograms, pictures, etc. If the base is totally unembossed, specify it is blank.
MOLD TYPE: Most Hutchinson bottles are two leaf mold bottles with vertical seams that run from the base up the sides and disappear in the shoulder or neck area. A few Hutchinson bottles are four part mold bottles with an additional horizontal mold line near the shoulders.
GLASS COLOR: The majority of Hutchinson bottles were produced in various shades of aqua (pale green) glass. They are also found in flint (clear), cobalt blue, cornflower blue, emerald green, and various shades of amber glass. Beware of Hutchinson bottles that have been irradiated, permanently altering the original glass color. They are typically dark purple or a sickly brown color that some fraud artists label as "topaz." Help stop the wanton destruction of these historical artifacts by refusing to buy altered bottles.
DIMENSIONS: Accurately measure and specify exact bottle height and base diameter. Hutchinson bottles were manufactured in a variety of sizes, with heights ranging from 5.50" to over 10.0" and diameters from 2" to over 3.5."
PLATE MOULD SHAPE: The bottler-specific embossed lettering on most Hutchinson bottles was produced via the use of engraved round, horseshoe-shaped, or rectangular plate moulds. If there is a plate mould line surrounding the embossing, describe its shape in your listing. Hutchinsons without plate mould lines were generally more expensive to produce and are referred to as "private mould" bottles.
BOTTLE SHAPE: Most Hutchinson bottles have either round or 10 panel bases. They are also found with vertical panels, base and shoulder panels, and a few other unusual shapes. A good photograph will show a bottle's shape, but also be sure to describe the shape in your accompanying text.
CONDITION: Hutchinson bottles were usually refilled and reused many times, so evidence of handling wear is normal. An accurate description fully disclosing a bottle's condition is critically important to Hutchinson collectors. Good sales listings detail any/all damage, including cracks, chips, nicks, flakes, pitting, bruises, dings, scratches, case wear, stains, dirt, water deposits, sick glass, etc. Be sure to disclose any repairs, polishing, tumbling, and/or any type of professional cleaning. If a bottle has been irradiated, include and explain that the color has been permanently altered; failure to knowingly disclose a bottle has been irradiated is dishonest.
COMMENTS: Include commentary describing special features such as monograms, embossed pictures, spelling errors, incorrect/missing punctuation, etc. If you truly know a bottle's rarity rating, mention it. Note, however, that many advertised Hutchinson bottles described as "Rare" or "Scarce" are actually "Common." If you cite rarity or other information from a publication, obey copyright laws and properly cite the source!
This Hutchinson Bottle Sales Guide is a work-in-progress and user suggestions are welcomed. Good selling!