Featured Bottler: L. L. Daus - Baker City, Oregon
Note: If you have researched and authored an article about a Hutchinson bottler you feel would be of interest to others, and would like the article considered for publication at HutchBook.com, please contact us via EMail at HutchBook@yahoo.com.
Posted: April 1, 2013
The following article was originally published as a chapter of my book, An Introduction To Collecting Soda Pop Bottles, in 1984. It also appeared as one of my "Speaking Soda Confidentially" columns in the September 1984 issue of Old Bottle Magazine. An expanded and updated version of the article subsequently became a chapter of my book, Collecting Soda Pop Bottles, in 2006. Here is the original article again, plus an update written especially for the April 1, 2013 issue of Hutchinson Highlights:
RESEARCHING OREGON'S RAREST HUTCHINSON SODA
by Ron Fowler
It was Friday and I was in Dallas on business trip. I needed to be in Minneapolis on Monday, so it hardly seemed worth the trip clear back to Seattle for two days. Where could I spend the weekend? I decided to go up to Oklahoma City and help the late Joe Nagy with his Hutchinson Encyclopedia project. Luckily, Joe was home and transportation was available, so off I went. Such situations always seem to start so innocently, but what a journey that weekend trip turned out to be!
After several hours of drawing detailed bottle illustrations for the Hutchinson book, I needed a mental break and began to page thru the box of Oregon submittals Joe had received over the years. I had already submitted drawings of all the known Oregon Hutchinson bottles, but figured I had better look thru the file just in case someone had sent in an oddball variant I didn't know about. Alas, no such luck. But wait, someone had submitted a rubbing of a very rare J. W. COWINS / SODA WORKS / HEPPNER / ORE. Hutchinson soda bottle. The fellow who sent in the data said he dug three of them in the same hole. Three of them! Naturally, I wondered if he still had them, and I intended to find out.

After returning home I wrote the man, asking if he still had the bottles, and if so, were they for sale or trade. I watched the mailbox anxiously and finally an answer arrived. I wasn't laughing when the fellow wrote "You should have been around when I was giving them away. I kept one and gave the other two away and they were in fine condition." Groan! He still had one of the bottles in his collection, but it wasn't for sale or available for a trade. Okay. He couldn't remember to whom he'd given the second one. Another groan! Fortunately though, he provided the name and address of his acquaintance that had the third bottle. It was another lead to chase and at least I hadn't hit a dead end!
I quickly mailed off another hopeful letter and once again sat back and waited for a response. A prompt response stated: "I have the bottle you asked about. I hadn't thought much about selling it, but I suppose that could be arranged. If you are over this way, drop in and we can talk about it." Fantastic! The big day soon arrived and I was off on a two hour drive to hopefully acquire one of the elusive Heppner, Oregon Hutchinsons.
The bottle's owner turned out to be a retiree who primarily collected Native American artifacts. He began collecting during the 1920s and had amassed a fortune in museum quality items. After a guided tour of his incredible artifacts collection, we began to look thru his bottles. He explained that he "wasn't really into bottles. I just sort of picked 'em up along the way, as I'm always finding 'em while artifact hunting." Sure enough, there in the middle of a shelf of sodas was the Heppner, Oregon Hutchinson soda. My heart beat fast as I held it in my hands; it was a bottle I wasn't sure I would ever acquire. We set it aside while continuing to look thru the rest of his sodas. And then I saw it. What's that Hutchinson? Does the embossing say "Baker City, OR?" Wow!

My heart raced wildly when I reached out and caressed a beautiful Hutchinson soda embossed L. L. DAUS / SODA WATER WORKS / BAKER CITY, / OR. I've researched and published two books about the history of Oregon sodas and their bottlers, and after over 20 years of research, out of the blue I was suddenly holding an Oregon soda bottle that I had never seen before, and it carried a bottler's name I didn't recognize at all. Good grief! This bottle was also set aside and we worked a cash deal for the pair. As I headed for home I could hardly believe my good fortune. It was one of those drives where I had to repeatedly pinch myself to make sure I wasn't dreaming!
I openly admit to having a special, personal interest in Baker City, Oregon; it's a sleepy, small Eastern Oregon town that I called home from 1947-1955. Baker City was a key stopping point on the Old Oregon Trail, and then a gold rush, cattle, and lumber boom town, all of which ignited my interest in history at a very early age. Needless to say, soda bottles from one's home town are extra special.
The story didn't end with acquisition of this one-of-a-kind Baker City, Oregon Hutchinson soda bottle; it had actually only begun. After all, acquiring a bottle and having no information about the bottler is backwards from my usual situation. I have reams of research material on many soda bottlers for whom no bottles are (yet) known. This L. L. Daus bottle was a unique experience. I figured I could rather quickly research and put together some information about L. L. Daus. Such adventures always seem to begin so innocently.
First I tried the books in my personal library containing information about early Baker City, but there were no references to Daus. My next stop was the public library as they have a fairly complete set of Baker City directories. It was a fruitless trip; there were no listings for L. L. Daus.
Next I sent letters to several bottle collectors I know from the Baker City area. Surely they would be able to tell me something about Daus; wrong! None of them had ever heard of L. L. Daus. It was beginning to look like Daus was going to be more of a challenge than I realized.
There was only one thing left to do: I would have to go to Baker City and dig out the information myself. After all, I've written articles about how to do research; certainly I could find some information on this bottler!
Brimming with confidence, I asked a Baker City public librarian for access to their early city directories. Half an hour later I had found absolutely nothing about Daus. Unfortunately, there is a huge gap between 1893 and 1900 during which no Baker City directories were published. It looks like the financial panic of 1893 most likely prevented Daus from having a directory listing that latter day researchers could discover and treasure.
The Baker City library has an extensive collection of local history books and pamphlets. Certainly one of these would contain an advertisement or some other reference to Daus! No such luck. The librarian suggested I try City Hall. Wrong. City Hall suggested I see if the newspaper office's file contained any information about Daus. Yet another dead end. The folks at the newspaper office suggested the County Courthouse. L. L. Daus was beginning to wear on my patience!
With increasing pessimism, I walked into the County Clerk's office. I was shown into the records vault and then down an ancient, spiral staircase into the storage area. At the foot of the stairs I hoped to finally find information about L. L. Daus. The shelves were lined with beautiful, old, leather bound volumes of every early city record imaginable. Fortunately, many of the books had been indexed. Not "indexed" in the sense we've grown accustomed to however; e.g. the "D's" are all together in one section in date of entry order, rather than alphabetical order. Oh well, at least I didn't have to read each entire book! Hours later, I had poured thru volume after volume of deeds, leases, tax rolls, juror lists, court dockets, and birth and death certificates. Naturally, I found numerous listings and references for Baker City's other soda bottlers, but not one single, solitary reference to L. L. Daus. I couldn't believe that I had been totally skunked!
After returning home I contacted the Oregon Historical Society, hoping they might have a Baker City directory that had been published between the years 1893 and 1900, or perhaps they'd have a reference to Daus in their name file. It wasn't to be; they searched their records and even tried Baker City's Morning Democrat newspaper between 1890 and 1900 to no avail. Aaarrrggghhh!!!
I next devoted an Old Bottle Magazine column to Daus as a long shot attempt that another collector might recognize the name. Sure enough, Wyoming's Warren Borton came thru with information from his fine book, Wyoming Bottles – Historical Bottles of Wyoming, 1868 – 1910. According to Warren, "Leopold L. Daus established his business in 1884 and continued until around 1898 when he moved to Boise, Idaho. He was a member of the Wyoming Pharmacy commission from 1894 to 1898." Warren also came up with an example of a clear, bimal, L. L. DAUS / DRUGGIST / ROCK SPRINGS, WYO. medicine bottle (see accompanying illustration) that now sits on a shelf adjacent to the L. L. Daus Hutchinson.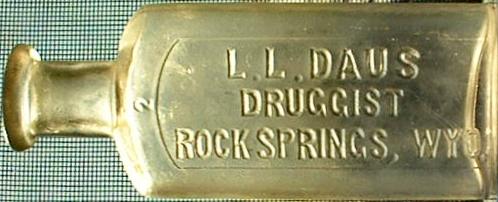 Although it was tempting to give up the chase, that just wasn't acceptable when there were still so many unanswered questions about L. L. Daus! Boise is only about 100 miles from Baker City; at some point Daus apparently moved and either opened or contemplated opening a soda works in Baker City. Nationally, quite a few druggists branched out and opened bottling plants during the Hutchinson era. Was this plant actually in operation? When? Where was the plant located? Why is the bottle embossed with the somewhat unusual "Soda Water Works" terminology instead of the more commonly used "Soda Works?" Daus' bottle silently screams to have its history revealed.
It has now been almost 30 years since I obtained and began my pursuit of information about this Hutchinson bottle. Three examples of this bottle are now known:
Two years ago an excavation contractor dug an example at a construction site in Walla Walla, Washington. The excavator operator happened to be the brother-in-law of a long-time Washington bottle collector who soon obtained the bottle. It then quickly changed hands two more times, ending up in the collection of the late Pete Dennis of The Dalles, Oregon. The bottle now safely resides in the collection of Pete's son, Jim, also a long-time bottle collector.

In late 2011 HutchBook EMail brought an inquiry from an individual in Eastern Washington who found a reference to L. L. Daus via HutchBook.com and wrote to see if anyone would be interested in a bottle she had inherited. It seems an elderly aunt had been a 50+ year rock hound and somewhere during her travels she found an L. L. Daus Hutchinson. Was anyone interested? Oh yeah! Long story short, that bottle is the one pictured accompanying this article.

The original bottle I obtained accompanied me to the FOHBC Expo in Reno last summer. I decided this bottle deserved an extra special home with someone who would truly appreciate it, and I found just that Oregon soda collector at the show.
I am, of course, still searching for information about the mysterious L. L. Daus. If you can help, please EMail me at HutchBook@yahoo.com.