Hutchinson Collector Profile - David Gilson
Posted: August 1, 2013
HOW LONG HAVE YOU BEEN COLLECTING BOTTLES? WHY BOTTLES?
I started collecting bottles as a young teenager, 42 years ago. My first interest was sparked when my sister stepped on and claimed for herself a Dr. Kilmer's Swamp Root Kidney, Liver and Bladder Cure bottle in prime condition during a family Sunday walk in the woods surrounding my home. A couple years later I found an old dump near an allegedly abandoned stagecoach trail and excavated many old medicine bottles. My Dad built shelves in my room to display the bottles and I cleaned them to the best of my ability by hand. In my later teen years I worked on a 100+ year old farm where I soon discovered a dump on the other side of the cow fence I was weed-whacking. I frequented that dump after hours, adding bottles to my shelves. Old abandoned houses in the area were also my primary hunting grounds.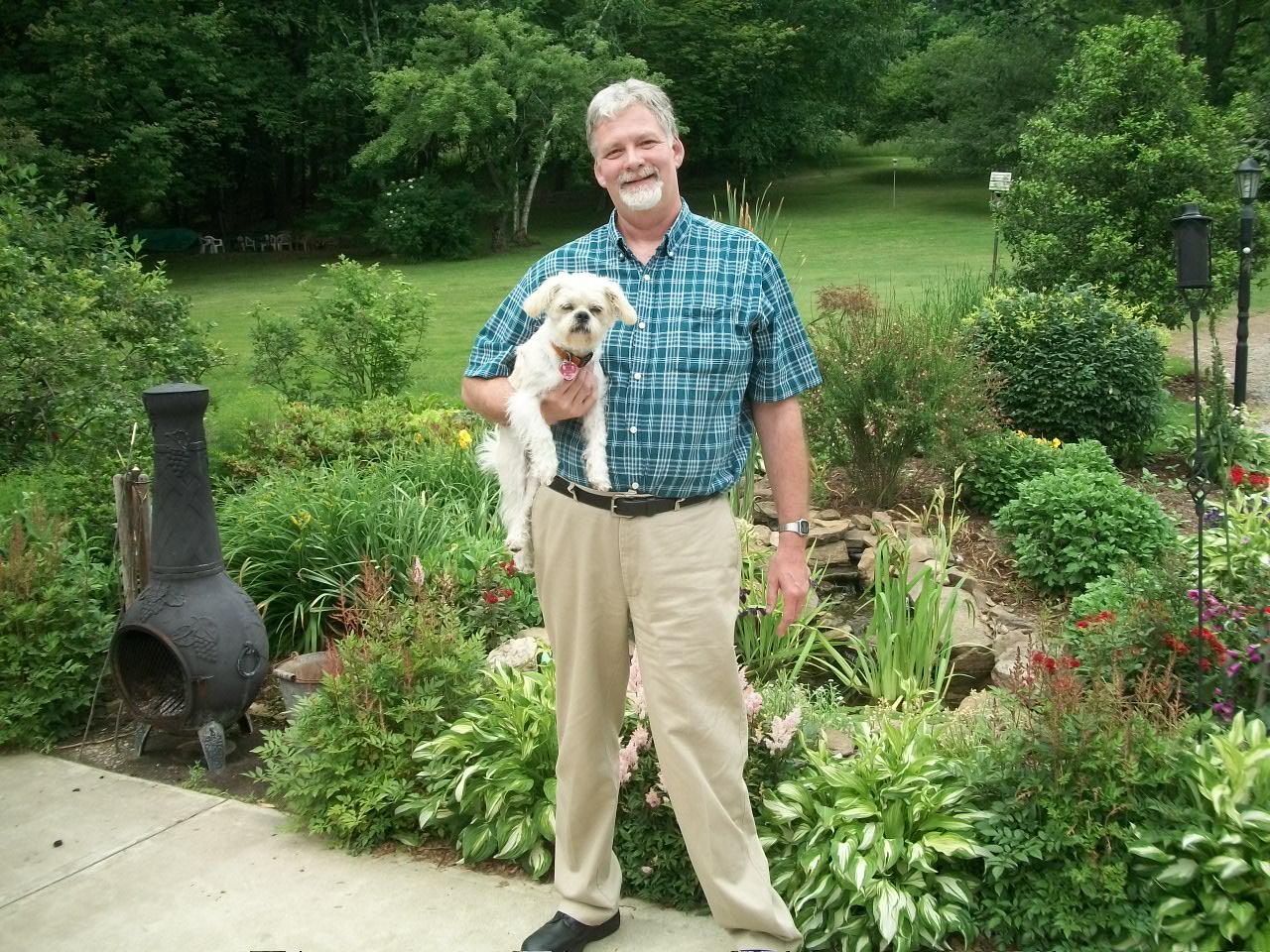 Dave Gilson and his man-eating Shih-Tzu
ARE/WERE OTHER FAMILY MEMBERS ALSO COLLECTORS?
No one in my family really enjoys my hobby, but I have the full support of my loving wife of 32 years! I have overheard comments like "I think I see what he likes about those blue ones" from a daughter-in-law, and "I think I get why he enjoys collecting bottles so much" after my youngest son started to experience the day-to-day grind of business life. My 92 year old Mom says that I am "interesting" because of MY interest in bottles. My wife does admit that there are certain bottles she wouldn't ever want me to sell. I believe there is hope for each of them after all. Just wait until they inherit them!
WHAT IS YOUR BOTTLE COLLECTING SPECIALTY? WHAT TYPES OF BOTTLES DO YOU COLLECT BESIDES HUTCHINSONS? HOW
HAVE YOUR BOTTLE COLLECTING SPECIALTY AREAS OF INTEREST CHANGED OVER THE YEARS?
I am not a specialist, but rather an eager learner, anxious to share as I go.
My family and friends knew I liked bottles and would buy them for me when they ran across them. I accumulated about a dozen different Hutchs and fell in love with the unique blob, heavy, thick glass, bubbles, colors, identification (name, town, state, etc.) that is characteristic of Hutchs. I was naively thinking that I had the biggest Hutch collection around because, after all, until you get networked in the hobby,,, Lets face it, we are a special breed, both few and far between! Most people I show my collection to say "Oh that's cool, now lets go back and look at Dawn's (my wife's) salt water fish tank again!" Hutchs remain my favorite bottles and currently I am enjoying looking for and discovering Pittsburgh variants.
Additionally, a family friend found and gave me an aqua, sided, iron-pontiled, J. C. Buffum and Company sarsaparilla bottle. Little did I realize what a gift that was until later in life! As an aside, it had all that black dirt on the pontil that I scrubbed and scrubbed to get off. Fortunately it was well embedded and the iron still remains! Not knowing what I was getting into, I always sought different Buffum bottles as they just seemed to belong with the original Buffum bottle I was given. It is quite an interesting collection due to the many years J. C. was in business and the wide variety of beverages he produced. Variety, colors, and history are what holds my attention on the J. C. (and brother H. W.) Buffum bottles. If it's a Buffum from Pittsburgh, (or "Pittsburg," depending on the date), I want one, whether it is a different bottle, a sign, a wooden case, or whatever! I also have a collection of Pittsburgh blob tops.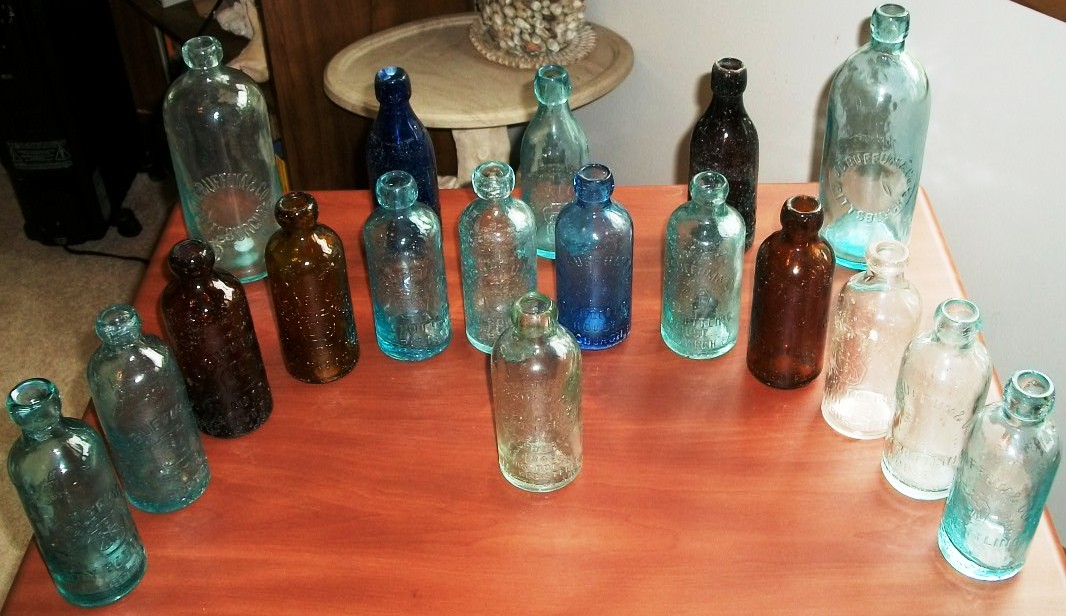 Favorite Bunch - Buffum Hutchinsons and Transitionals
As I said, I thought I had the world's biggest Hutch collection at about a dozen strong, and then I found out about bottle shows and eBay. Needless to say, my eyes were opened quickly! I started on a 50 state collection and was out to get every Hutch ever made. Then I reduced my scope to every Pennsylvania Hutch ever made. HutchBook.com woke me up to the number of Pennsylvania bottles that exist, so to minimize the "bottlage" on the shelves (and assure my wife this hobby will not get out of control throughout the house where she dusts), I again adjusted the Hutch collection to a growing state collection and Western Pennsylvania only. Now I have completed the state collection and the Western Pennsylvania section has been focused into a Pittsburgh (and a few local interest) collection only. I am currently nibbling at a Canadian Province set, a Mexican State set, and a Territory set as opportunities pop up.
WHAT ARE YOUR FAVORITE HUTCHINSON BOTTLES? WHY?
Picking favorites is a tall order and if I thought long enough I would mention each one for its own reasons. I would be a hypocrite if my favorite Hutchs were not the intersection of the Buffum collection and the Pittsburgh Hutchinson collection. I do have three other bottles that seem to stand out to me as favorites, at least for now. One is a RAMSAY'S / BOTTLING WORKS / CARMICHAELS / PA. (PA0389) for it's crudeness and natural sun colored amethyst tint. Another is a BLACKWOOD'S from Winnipeg, Manitoba, Canada (MAN0003) because of its unusual amount of embossing. And who doesn't love the uniqueness of the tall, gawky B. F. TATMAN / OWENSBORO, / KY. (KY0145)?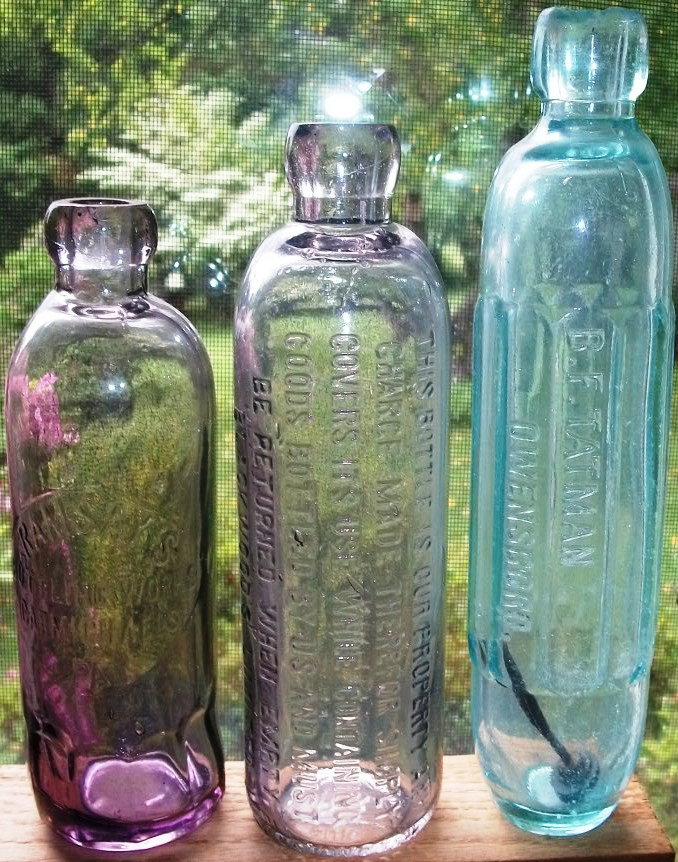 Favorite Three
HOW DO YOU ACQUIRE BOTTLES FOR YOUR COLLECTION? ARE YOU A DIGGER?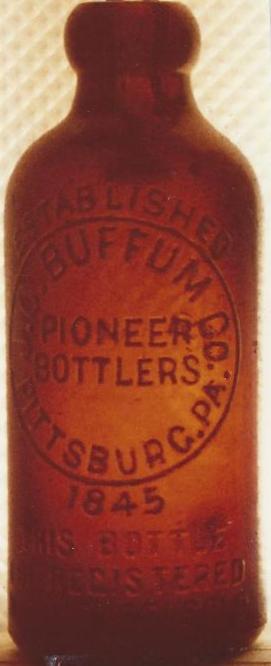 I would love to be a partner in a dig, but could never be the digger in the hole. I admire those guys and appreciate what they do to uncover the treasures and enhance our hobby!Long ago I sold the medicines and I now resort to eBay, bottle shows, and an occasional flea market for my hunts.
WHICH HUTCHINSON BOTTLES ARE YOU SEEKING?
I am looking for an amber, Buffum, Pioneer Bottlers Hutch (PA2223; pictured to the right), and there is also apparently a Buffum amber quart Hutch (PA2213) out there somewhere.
HOW DO YOU DISPLAY YOUR COLLECTION?
I have a devoted hallway with shelves (okay, lots of shelves) with lips on the edges to avoid movement to the floor. I have clear Christmas lights behind the bottles to brighten up the dark hall and to shine light through the glass. I have only lost one bottle to a wagging dog tail so far and we have now down-sized the dog from a Golden Retriever and Shepherd mix to a man-eating Shih-Tzu! I enjoy tumbling the bottles, cleaning the glass for better transparency in the display. Changing the bottles in the tumbler is always a rewarding part of the hobby for me.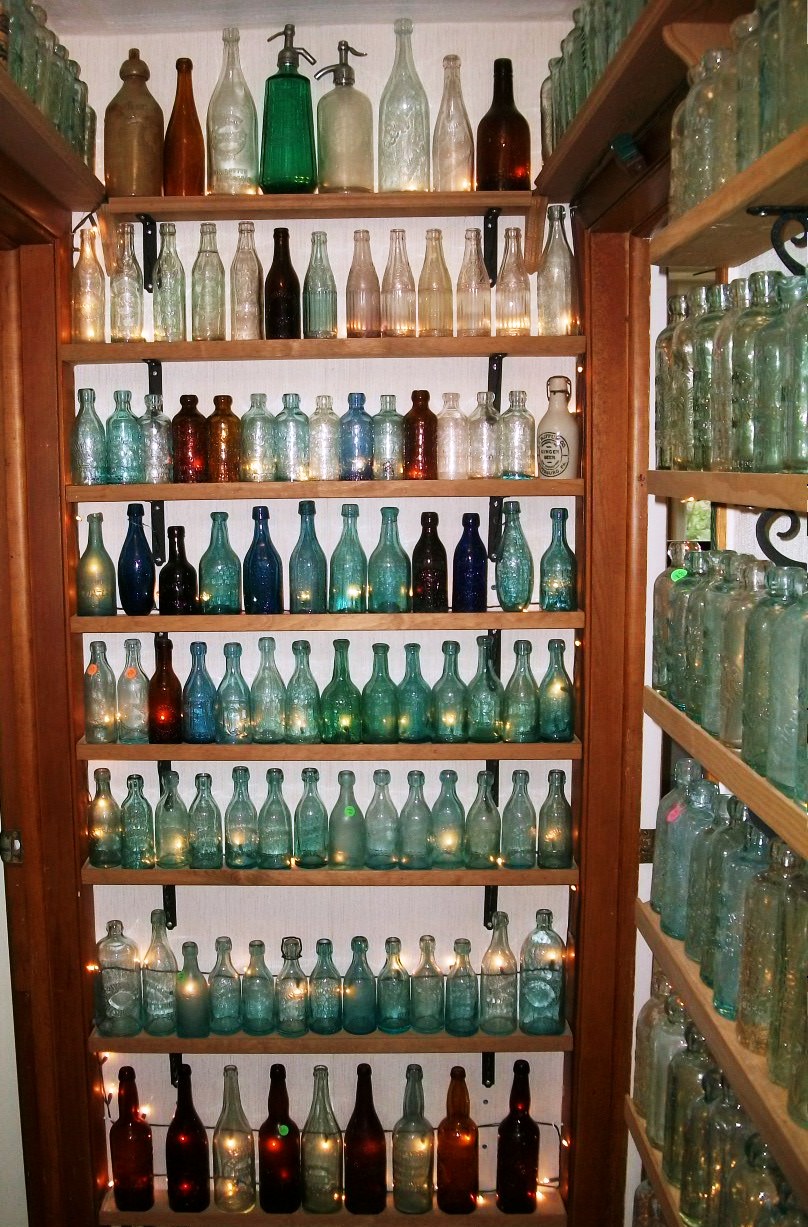 Buffum Shelves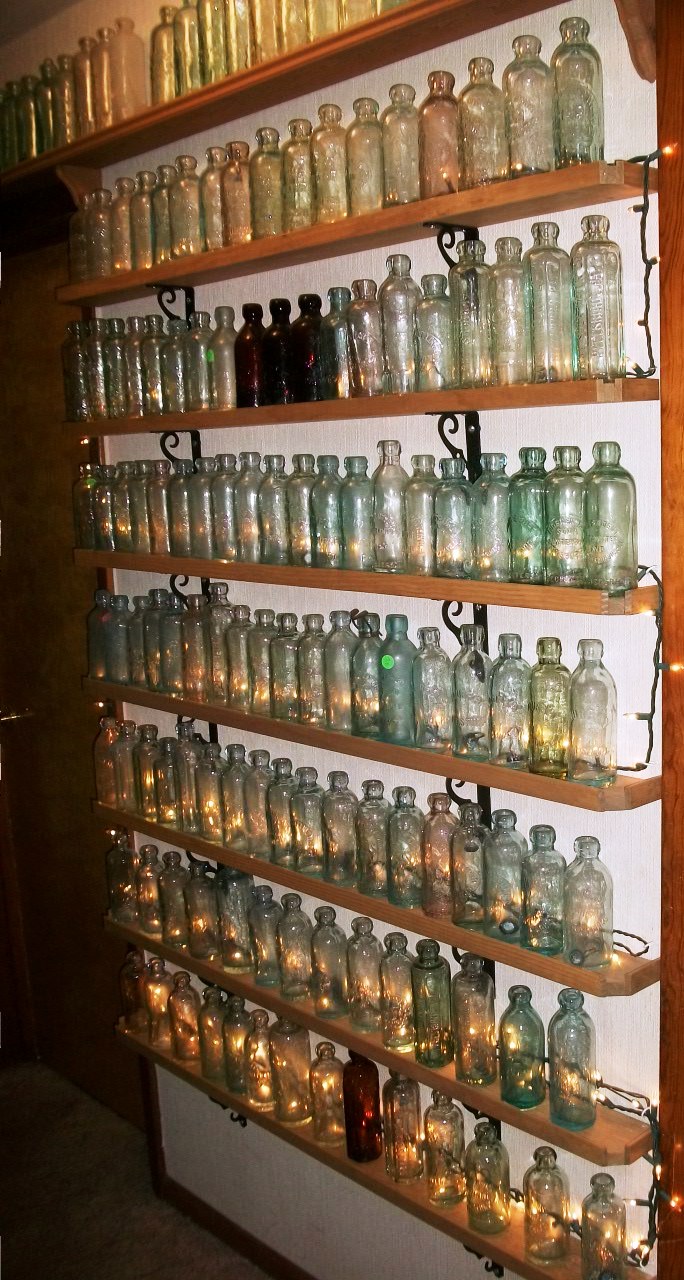 Pittsburgh Hutchinson Shelves
DO YOU ALSO COLLECT "GO-WITH" ITEMS?
Any Buffum items are of interest - wooden cases, signs, Civil War tokens, and I once saw a Buffum paper label on eBay that I didn't get. I'm not a greedy person, I just feel like I need one of each!
DO YOU RESEARCH YOUR BOTTLES?
I greatly appreciate the HutchBook web site and enjoy contributing new variants while helping to fill in blanks where they exist. Someday I may get involved in a bottle club as my interaction with those in the club near me has always been very interesting and enjoyable. The folks I have interfaced with have been tremendous resources and help to keep the hobby fresh and interesting. Unfortunately, the club isn't really that close to my home and I am very involved in many other interests. For now, I am pretty much committed to working with HutchBook to build the database and advance this stellar resource for our hobby.
WHAT BOTTLE-RELATED WEB SITES DO YOU VISIT FREQUENTLY (OTHER THAN HUTCHBOOK.COM, OF COURSE!)?
I have visited other sites but HutchBook.com is clearly the site of choice for Hutchs.
HOW CAN OTHERS CONTACT YOU?
I am approaching ten years as a cancer survivor (synovial sarcoma in my leg). I am also a "fully functioning," below knee amputee of almost nine years as a result of the radiation from my cancer treatments. I hate radiation as much as Ron, but for very different reasons! If you don't see me in my shorts, (which I do wear frequently because "it is what it is"), you would never know, for which I give all credit to my God! My EMail address is: buffumbtl@hotmail.com (who would have seen that one coming?).