Hutchinson Collector Profile - Brandon DeWolfe
Posted: July 1, 2013

HOW LONG HAVE YOU BEEN COLLECTING BOTTLES? WHY BOTTLES?

I have been collecting bottles since I was 6 and I'm now 33, so 27 years.

They were something that I could look for and find in rural New Hampshire without spending money.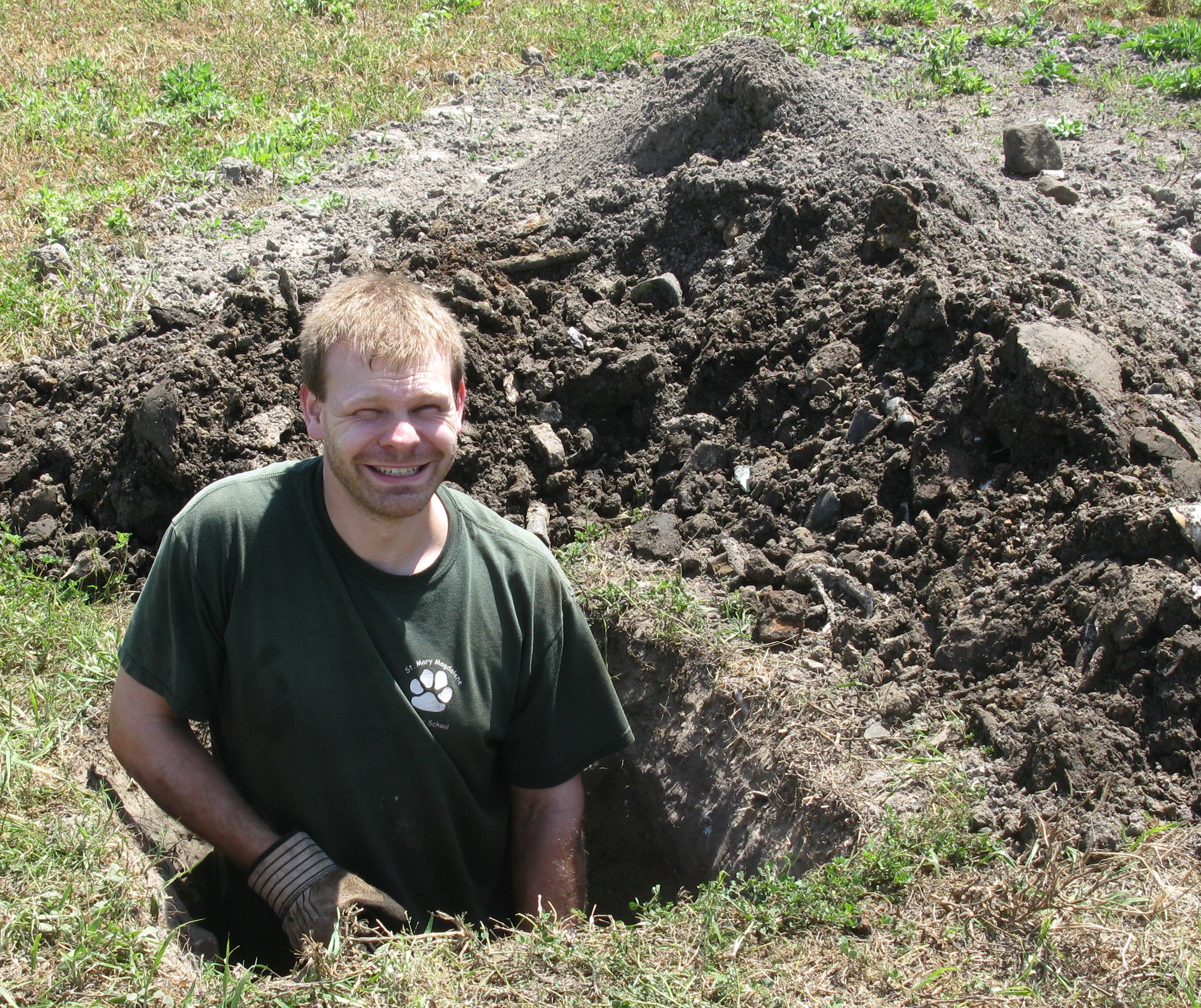 WERE YOU A COLLECTOR AS A CHILD? WHAT DID YOU COLLECT? HOW EARLY DID YOU START COLLECTING?
I started digging with my parents when I was 6. My parents bought property in New Hampshire that happened to have a large 1930s dump on it. At the time, I (of course) collected anything I thought was cool and that I could dig, which was mostly Coke bottles, cobalt blue glass, and 1930s figural bottles. I also collected fossils and coins as a kid. I still have the coin collection although I no longer add to it.
ARE/WERE OTHER FAMILY MEMBERS ALSO COLLECTORS?
My Dad started collecting bottles at the same time (when I was 6). He and I dug together (along with my Mother sometimes) the entire time I was growing up. He still digs from time to time and does have quite a collection of root beer extract bottles. He also collects antique washboards.
WHAT IS YOUR BOTTLE COLLECTING SPECIALTY? WHAT TYPES OF BOTTLES DO YOU COLLECT BESIDES HUTCHINSONS?
I primarily collect pharmacy bottles, Hutchinson sodas, squat sodas, blob beers, patent medicines, seltzer bottles, and flasks from New Hampshire. I have a small secondary collection of Texas medicines and Hutchinson sodas that I have dug while living in Texas, as well as a small collection of "ship's apothecary" bottles and ship chandler pottery jugs.
HAVE YOUR BOTTLE COLLECTING SPECIALTY AREAS OF INTEREST CHANGED OVER THE YEARS? HOW?
When I was a kid and dug most of my bottles, my collection was primarily bottles that I could dig in rural New Hampshire. For the most part, people there did not have access to the wide range of products available to people in larger towns and cities, so this collection was pretty limited in scope. As I grew older, I was able to buy bottles that interested me, enabling me to specialize in New Hampshire pharmacy bottles and Hutchinson sodas even though I typically did not dig those kinds of bottles in the area where I was digging.
WHAT ARE YOUR FAVORITE HUTCHINSON BOTTLES? WHY?
I think my favorite is NH0010, an O. LETTENMEYER / KEENE / N. H. Hutchinson soda that still has its original paper label. That is a combination that is very hard to find and amazingly was purchased from a fellow here in Texas, where I currently live.


HOW DO YOU ACQUIRE BOTTLES FOR YOUR COLLECTION? ARE YOU A DIGGER?
Most of the bottles in my collection have been purchased. I have been digging for many years, but much of what I dug falls outside the realm of what I collect. I do have a collection of 40 or so of the best bottles I have dug in New Hampshire.
I was digging with my Dad in Rumney, New Hampshire when I was probably about 14 years old. We were digging a small farm dump behind an old tumbled-down house and as was typical, much of the dump was under a big rock pile. After several hours of digging, my Dad started to get into a bit more 1890s glass that was clustered around a large tree. Everything was shattered, almost like someone years ago had lined the bottles up around the tree and shot at them. Nonetheless, all of a sudden he pulls out a bottle and starts hollering for me to come over there. It turned out to be a deep aqua Sunburst flask in perfect shape, and probably blown at Keene, New Hampshire. That was the only historical flask we ever dug (we never even saw a piece of one before or after that dig) and the only bottle (besides an 1890s Cowdrey pickle) we found that day.
More recently, I flew up to New Hampshire to spend some time with my parents, and my Dad and I went to a spot (also in Rumney) that we had poked around several years earlier. After not having any luck, we started walking along a banking where my Dad said he thought he had seen some glass when he had been there before. We finally found the spot and after about five minutes of digging discovered that it was apparently where a barrel of glass had been set years before. We found only one whole bottle, but it was a Pentucket Spring Water squat soda bottle from Lowell, Massachusetts with a graphite pontil, the only graphite pontil soda we ever dug in New Hampshire.
WHAT ARE THE BEST HUTCHINSON BOTTLES YOU HAVE FOUND?
The pint (NH0007) and 16 ounce (NH0008) J. H. Powers Hutchinson sodas from Farmington are probably the toughest New Hampshire Hutchinson sodas I have managed to acquire.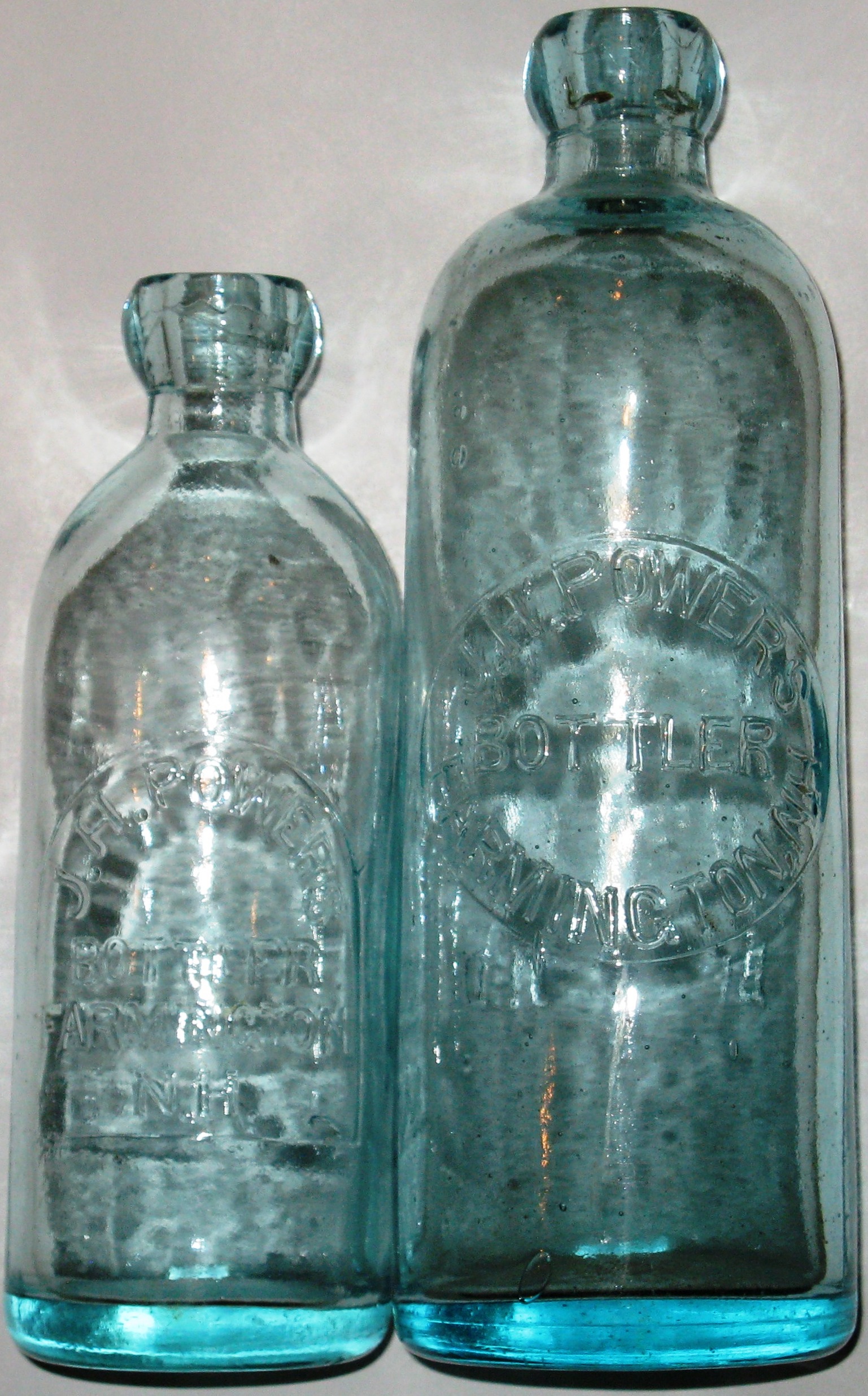 WHICH HUTCHINSON BOTTLES ARE YOU SEEKING?
I am looking for:
NH0014: P. HARRINGTON / MANCHESTER / N. H. / REGISTERED (near base);
NH0015: EUGENE QUIRIN MANCHESTER, N.H.; and
NH0016: QUIRIN BROS. MANCHESTER, N.H.;
as well as any label-only New Hampshire Hutchinson sodas or embossed variations not listed at HutchBook.com.
HOW DO YOU DISPLAY YOUR COLLECTION?
I have a "collection room" in the space above my garage where I have several old glass cases from pharmacies and stores. Most of my collection is displayed there.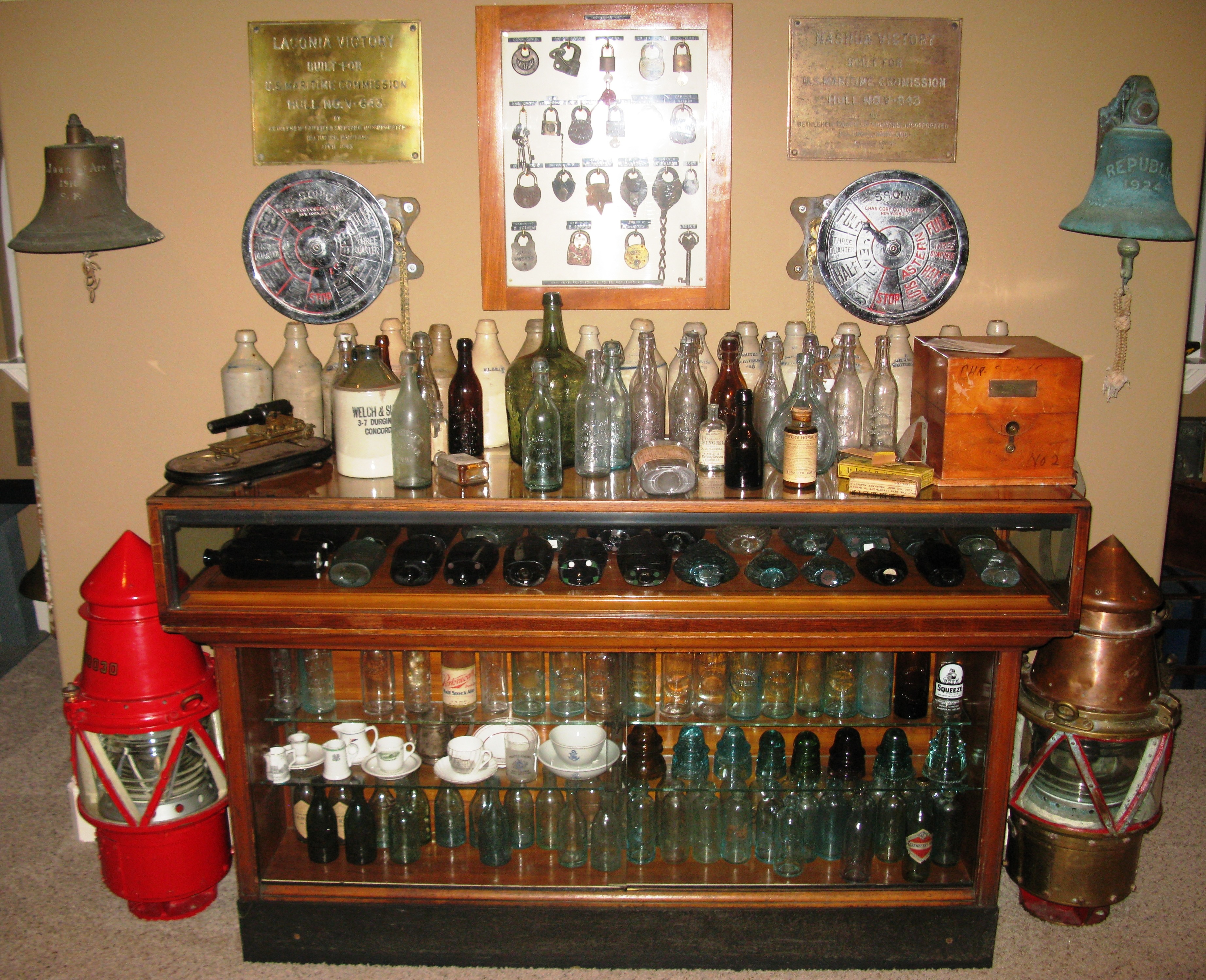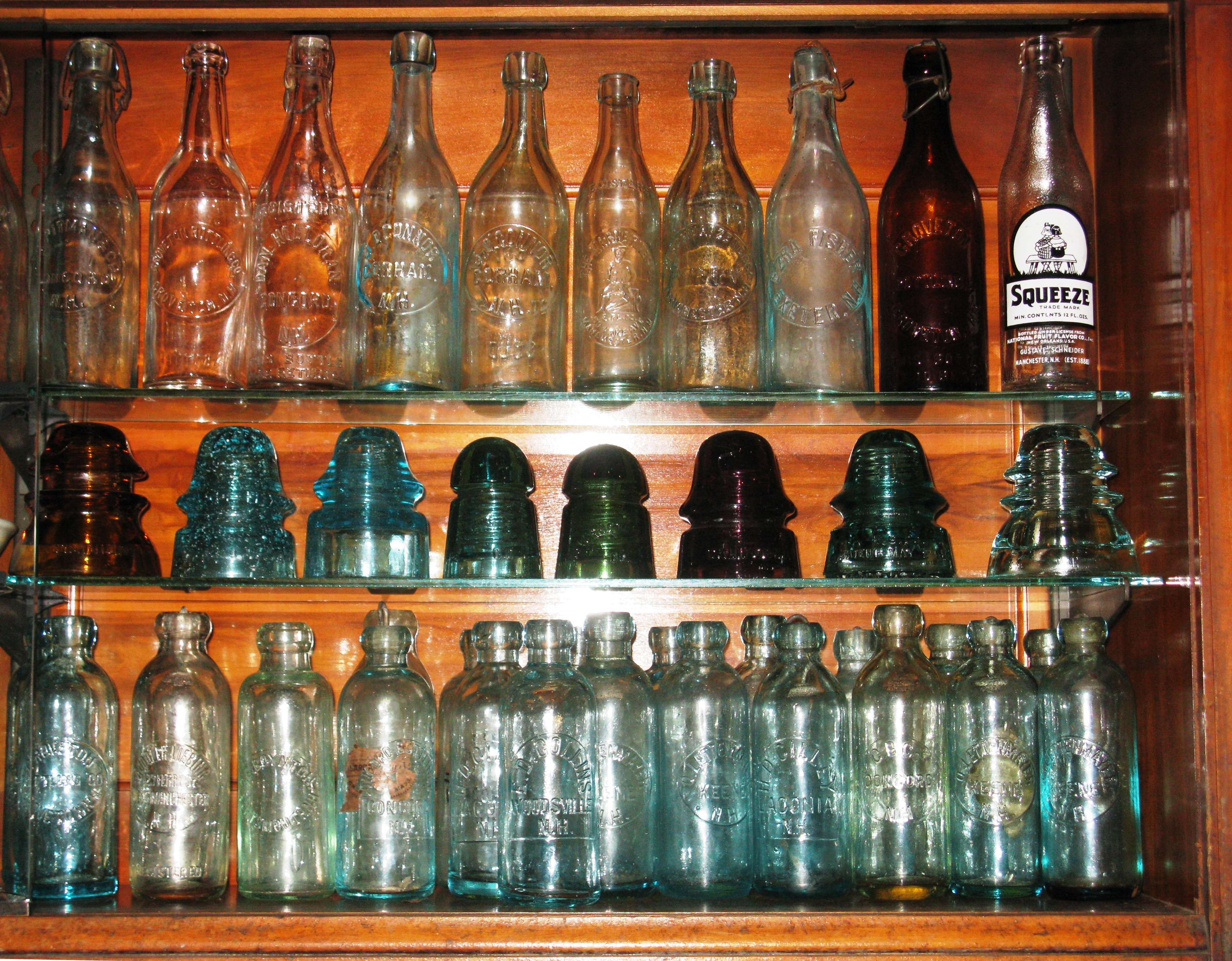 DO YOU ALSO COLLECT "GO-WITH" ITEMS?
I do collect go-with items such as trade cards, crates, letterheads, billheads, etc.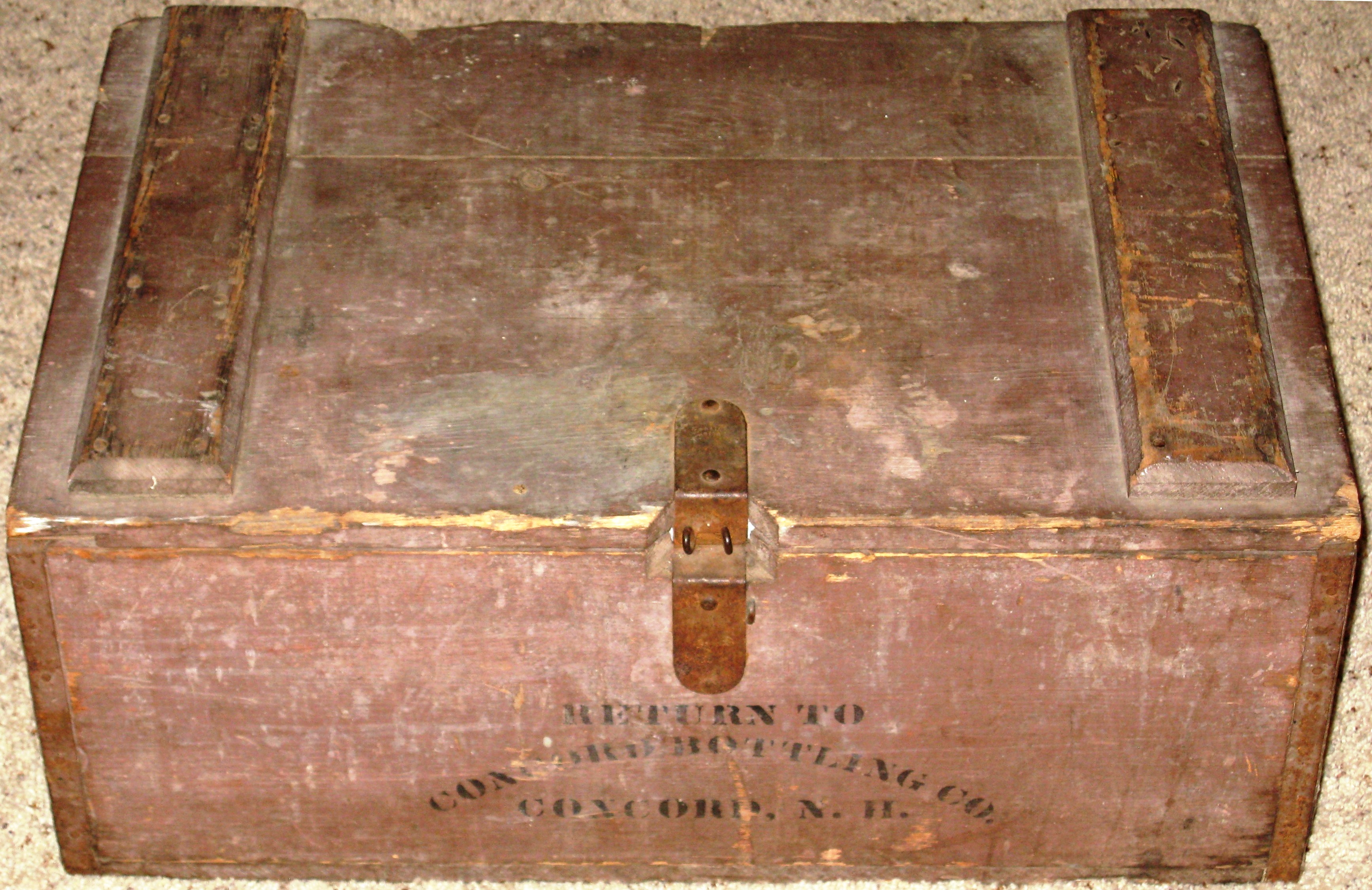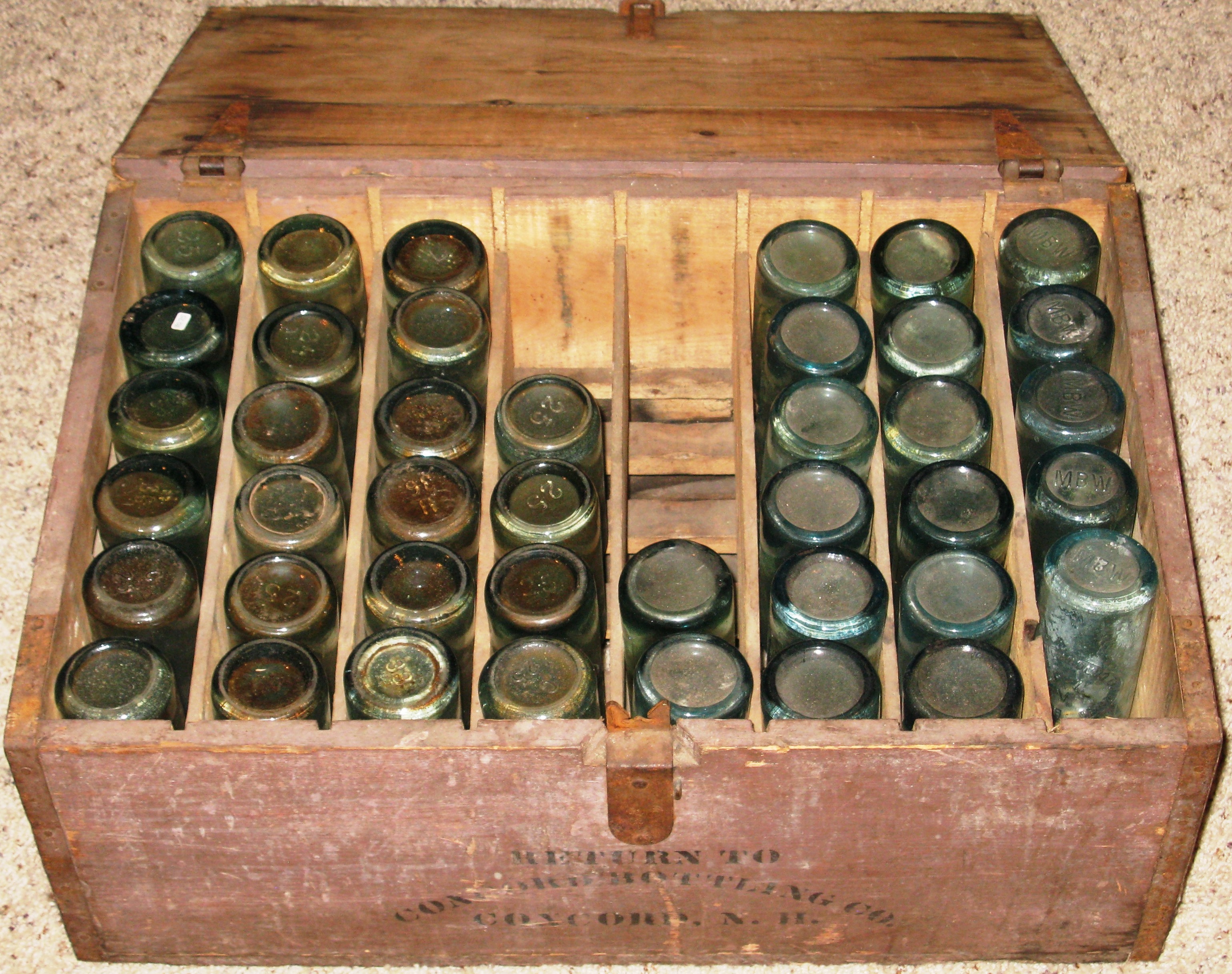 HOW DO YOU RESEARCH YOUR BOTTLES?
I try to research some of the bottles I acquire when I have time. I use old business directories (I have picked up several of these for New Hampshire over the years) and websites such as Ancestry.com.
WHAT BOTTLE-RELATED WEB SITES DO YOU VISIT FREQUENTLY (OTHER THAN HUTCHBOOK.COM, OF COURSE!)?
I visit Antique-Bottles.net from time to time, but otherwise don't spend a lot of time on web sites.
DO YOU COLLECT SOMETHING(S) OTHER THAN BOTTLES?
I collect shipbuilders plates (bronze plaques with the hull number and builders name of a ship) and small (less than 400 lb) bronze naval cannons as well. I have a degree in Naval Architecture and have always been interested in ships and the sea.
HOW CAN OTHERS CONTACT YOU?
My EMail address is brandondewolfe@hotmail.com. My phone number is 713-247-9555.