Labeling Bottles
Like several other aspects of the Hutchinson bottling process, research has turned up very little documentation thus far concerning the labeling of bottles. Consequently, we are again turning to Charles Sulz's 1888 book, A Treatise on Beverages or The Complete Practical Bottler, to review the general advice he provided on the subject of labeling:
Labeling Bottles.
This is, like capping and foiling, an ornamental part of the bottlers' work, but it must be done tastefully, as an attractive label also enhances the value of the beverages. Ever for this kind of work mechanical devices are not wanting.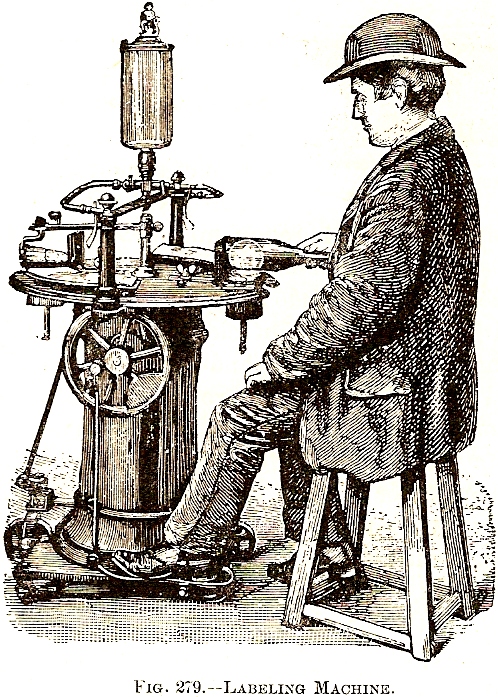 This machine is manufactured by Barnett & Foster in London, and combines efficiency with economy. By means of it, labels can be pasted and placed on the bottles at the rate of 1000 dozen per hour, by one girl or boy. The machine shown is fitted for two operators, so that the 'turn out' by the one machine can be brought up to about 200 dozen per hour. The machine is easily transported from one place to another, so that in removing bottles from stacks it can follow up, and the labels be placed on in proper position, and with greater speed than has et been attained y any other process…The labels, as received from the printer, are put into the label-holder or well – say 500 at a time – and are pressed up by a spiral spring; the pasting roller travels round by the action of the treadle from the foot, it passes over a pad of flannel and then over the label, carrying just sufficient gum or paste to make it stick. The bottle is then pressed on, as shown in the drawing, when the label will adhere to it, its position being always the same equal height from the bottom, as it has a regulator for this purpose. The paste is in a glass receptacle above, and is fed automatically, that is, each time the pasting roller comes round, it touches the lever of the small supply-cock, and gives just sufficient paste for the size label, so that waste is prevented, and a cleaner label is the result.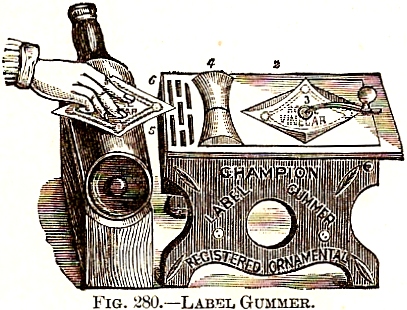 A Label Gummer is offered by Geo. J. Hutchings, Baltimore, Md., and illustrated by Fig. 280. It also facilitates the work of labeling the bottles, and is a practical and useful device in the bottling establishment.
Labeling machines became far more sophisticated toward the end of the Hutchinson era, as evidenced by the following advertisement from Bishop & Babcock's 1909 Bottler's Machinery – Bottler's Supplies catalog: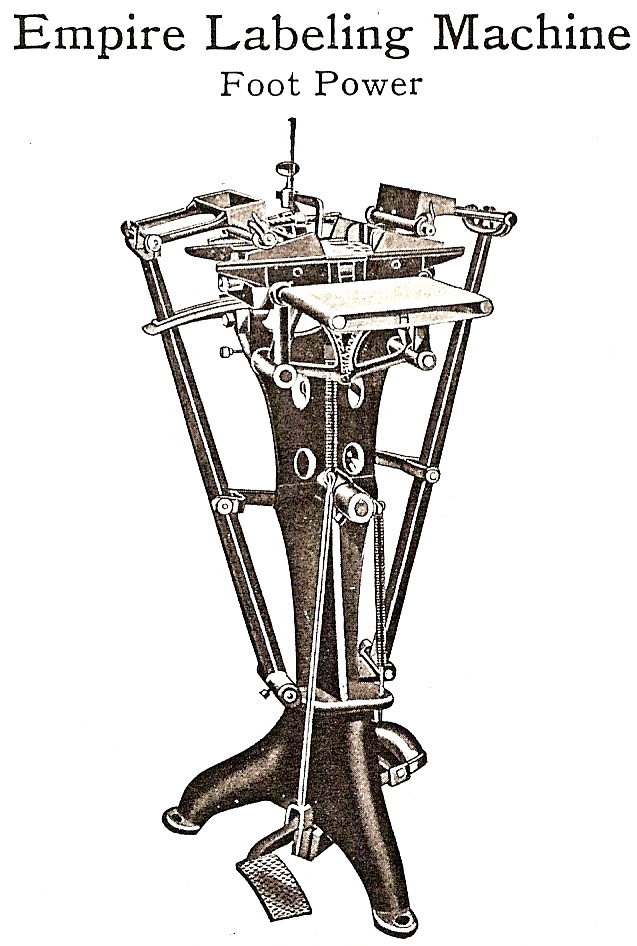 Although the accompanying advertising copy lacked detailed operating instructions, one can easily surmise this machine was designed to greatly standardize and speed the process of labeling bottles. It weighed 100 pounds and sold for $100, f.o.b. from the factory.
These Hutchinson label-related helpful hints are from The Bottler's Helper, a 1907 publication by the Blumenthal Brothers:
TO SAVE TIME IN LABELLING.
By Concho Bottling Works, San Angelo, Texas.
Have a smooth piece of tin and spread paste thinly over surface, take labels and fold in center, then fold back edges. You can now take the labels and set them in the paste. The one on bottom will adhere. Raise the balance and repeat until each one has been placed on the paste board. I use from ten to twelve labels at once. You can now pick up one label at a time and place it on the bottle, and I find a small boy can label as fast by hand by using this method as one man can bottle, and besides you only paste on the extreme edges of the label, and it is much easier for them to soak off.
DAMPEN YOUR LABELS.
By J. B. Mayer, Glencoe, Minn.
Bottlers who label by hand will find it greatly to their advantage to dampen labels before placing same on bottles, for taking a dry label and wetting it with paste and slapping it on the bottle will invariably show wrinkles in label. Paste label well, slap it against a second label, dividing paste put on first between the two. Lay the pair aside for some minutes or until you have pairs enough for one case. Then turn pile of labels over, using those first pasted, then they will stick to bottles readily, show no wrinkles and do quicker work.
ANOTHER METHOD.
By Chas. C. Hogan, Ennis, Texas.
Use a one-inch flat brush and have a small board, say 6 inches by 10 inches. Put about what paste the brush will pick up on one end of the board. Spread it around and lay the labels on the other end of the board. Pick up a label and wipe both ends across the paste on the board and it is ready to put on the bottle, which of course you will have in your left hand.
PASTE.
By Orange Bottling Works, Orange, Texas.
By Sedro-Wooley Bottling Works, Sedro-Wooley, Wash.
G. L. Simmons, Charlottestown, Canada
Yuncker Bottling Works, Indianapolis, Ind.
Geo. Mills, 407 Broadway, Quincy, Ill.
Lexington Bottling Works, G. T. Ray, Mgr., Lexington, Tenn.
J. S. Henninger & Son, Henninger Bottling Works, Anadarko, Okla.
To make a good label paste, dissolve 2 ounces of Gum Tragacanth in 1 gallon distilled water. If too thick dilute with carbonated water. A small lump of alum added to it will keep it from souring. To make it more adhesive add a little brown sugar.
By Frank Belard, Seattle, Wash.
Use a quart can in making the paste. Two tablespoonfuls of flour, and add enough water so as to be made like a cream. Break up all the small lumps of flour, then fill the can with boiling hot water and stir on the back of the stove until it is well mixed. Do not use paste until it is cold. If it gets too thick, add hot water.
By A. M. Britt, Reno, Nev.
To make a good paste for sticking on labels or shipping tags on boxes and casks: Gum Arabic dissolved with sour beer and heated by inserting a steam hose into it.
By Geo. Ritter, Cedarburg, Wis.
If labels do not stick well on bottles, take one tablespoonful of brown sugar to a pint of paste.
By Conway Bottling Works, Conway, S.C.
A good labeling paste that won't smear your bottles: Dissolve two heaping tablespoonfuls of good flour in one-half pint water. Dissolve a little lye and pour in enough to cook it, and then add enough water to make about two quarts. This makes a good cheap paste.