Hutchinson Collector Profile - Ralph Long
Posted: March 1, 2013
While we intend to profile a wide and diverse variety of active collectors, for this first installment we are reaching back in time and reprinting a profile of the late Ralph Long, an HBCA Hall of Fame Award recipient who passed away in late 1997. Ralph was an internationally known collector with over 600 picture Hutchinson bottles, a 50 state Hutchinson collection, and an extensive collection of Birmingham, Alabama-area sodas, and he is missed by all who knew him. This interview was conducted in 1984 and reprinted when Collecting Soda Pop Bottles was published in 2006:
RALPH LONG, HUTCHINSON COLLECTOR EXTRAORDINAIRE
Ralph Long and I share a mutual admiration for Hutchinson sodas. We were both submitting rubbings for the late Joe Nagy's Hutchinson Encyclopedia project, when Joe "introduced"us to one another via the mail.
Ralph is a Birmingham, Alabama carpentry supervisor and a 25-year member of the Alabama Bottle Collectors Society. He is also proof the people enjoying this hobby the most are the ones who collect bottles and friends. We corresponded for two years before meeting at the 1980 National Bottle Show in Chicago.
I believe we can learn something about ourselves by figuring out what motivates other collectors. When I approached Ralph about devoting a chapter of this book to his soda collecting, he graciously consented to an interview. I'd now like to introduce you to my collecting friend, Ralph Long.
HOW DID YOU BEGIN COLLECTING BOTTLES?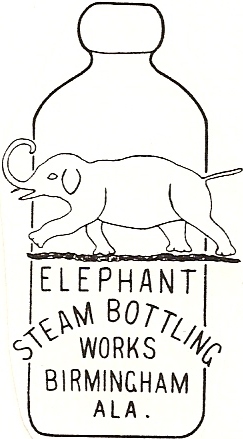 My son found some old canning jars in his grandmother's dump. We searched other private dumps and met a couple in search of old bottles. They invited us to go on a dig with them and after digging my first Elephant Steam Bottling Works with a picture of an elephant, I caught the fever for Hutchinson sodas. I first specialized in whiskeys and cures, but in 1969 decided to stick with the Hutchinsons.
WHY HUTCHINSON BOTTLES?
I like the shapes, colors, sizes, pictures, and most of all, the very nice people I meet thru the mail and may never see. I love the difference in ideas and designs of mold makers of the same bird, animal, star, etc. Of course, there's the challenge of tracking down a certain bottle I've heard of and always a surprise bottle pops up.
I never criticize anyone's collection. I'm sure there is some personal reason behind each collection and a person has to have will power to continue as collectible items get hard to find or money gets short, the latter being my problem most of the time.
PICTURES ON HUTCHINSONS WERE PROBABLY AN EFFECTIVE MEANS OF ADVERTISING. DO YOU THINK THERE ARE OTHER REASONS BOTTLERS USED PICTURE HUTCHINSON BOTTLES?
Two other reasons have been brought to my attention. First, during the Hutchinson era, many non‑English speaking people opened bottling businesses. Unable to read, maybe they had pictures put on their bottles to identify them by. Second, pictures made it easier for drivers to sort bottles.
DESCRIBE YOUR COLLECTION – NUMBERS, COLORS, GOALS, ETC.
I guess you can say I'm hung up on picture Hutchinsons. I have over 600 different picture Hutchinsons including the variations, plus 100 or so duplicates. My local collection includes 210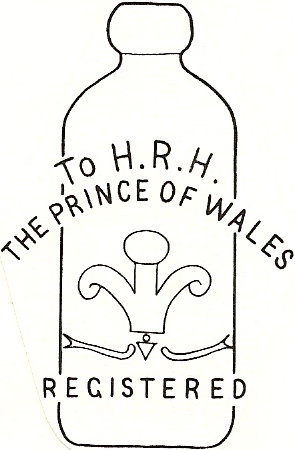 Birmingham and vicinity Hutchinsons and crown tops from before 1916. And, I have a 50 state Hutchinson collection and three territories. I'm currently trying to get together a Hutchinson soda from each of the Canadian Provinces; I still need Saskatchewan, Alberta, Northwest Territory, Yukon Territory, and Newfoundland (if it exists).
I also have Hutchinsons from Mexico, Cuba, and England. The English bottle is black glass and looks like it was blown in the same mold as some of the cobalt Lomax Hutchinsons from Chicago. It is embossed "To H. R. H. / THE PRINCE OF WALES."
I'm trying to find unusual aqua, sun‑colored amethyst, ice blue, smoke, or straw‑colored ones in mint condition to upgrade with as I can. But I never condemn a worn or sick Hutchinson – Hutchinsons have character. Only a few nuts like me are after the picture Hutchinsons in any condition.
WHAT ARE YOUR RAREST HUTCHINSON BOTTLES?
The rarest is a one of a kind: "FOUNTAIN & WELLS, BIRMINGHAM ALA." on the front; the reverse has a wreath with the date 1883. J. C. Fountain and J. R. Wells established Birmingham's first bottling company in 1883, bottling soda water and beer. My second rarest is a "JASPER COCA‑COLA BOTTLING CO. JASPER, ALA." To my knowledge, three are known. My rarest Chicago Hutchinson came from a good friend in Chicago. It's a LION BOTTLING WORKS / M. ENGELSTON PROP.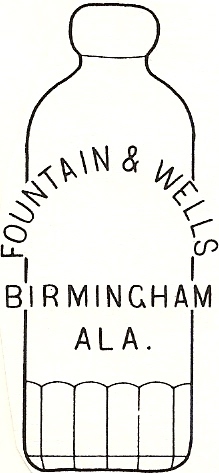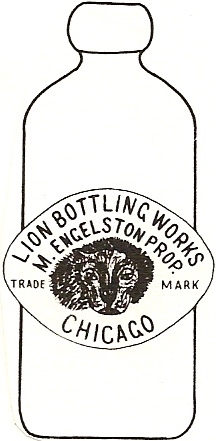 WHAT'S YOUR FAVORITE HUTCHINSON BOTTLE AND WHY?
All my Hutchinsons are favorites to me. I have lots that have more monetary value than others, but the lesser-valued ones are just as important to my collection as the higher priced ones. A friend of mine answers that it's "the one he doesn't have yet." This probably stands true for me also.
HOW MANY DIFFERENT STATES HAVE PICTURE HUTCHINSON BOTTLES?
I know of 34 states that have picture Hutchinsons. Illinois has the most with at least 78. Arkansas, Hawaii, Nebraska, and North Carolina have the least at one each. I still don't have Arkansas, Connecticut, Delaware, Idaho, Virginia, or West Virginia and look forward to acquiring them.
WHICH STATES HAVE PICTURE HUTCHINSON BOTTLES?
Alabama, Arkansas, California, Colorado, Connecticut, Delaware, Florida, Georgia, Hawaii, Idaho, Illinois, Indiana, Iowa, Louisiana, Maryland, Michigan, Mississippi, Missouri, Nebraska, New Jersey, New Hampshire, New York, North Carolina, Ohio, Oklahoma, Oregon, Pennsylvania, Tennessee, Texas, Utah, Virginia, Washington, West Virginia, and Wisconsin all have picture Hutchinson bottles.
HOW DO YOU ACQUIRE BOTTLES FOR YOUR COLLECTION?
I've dug about 25% of my collection. I also shop a few bottle shows, watch ads in bottle magazines, and acquire friends thru the mail that send me bottles I need. Mostly thru the mail now.
We dig sodas here from all over, particularly the East and Northeast. I figure the sodas were carried on passenger trains and taken off in another town or state in the trash. Or a bottling company went broke and sold the bottles to someone else. Or a glass company blew more bottles than were ordered and sold them for paper label bottles.
A picture Hutchinson collector has a tough time seeking out those little rascals. Out of almost any bottle magazine a bitters, medicine, cure, whiskey, and so on collector could acquire a pretty good collection if he could afford to buy all of them. Sometimes it goes for months and not a single picture Hutchinson will be advertised. But it's fun writing around the country seeking them out.
One never knows where a bottle will turn up. Some of the nicer California pictures I bought from New York. I acquired three nice Cincinnati, Ohio bottles out of Georgia, and a British Columbia, Canada Hutchinson from a guy in Florida.
Some time ago I wrote to a man that had made several digging trips into the Yukon. Don't know if he will ever answer my letter, but I haven't given up. To keep the bottle hobby going, I have to use every means of contact. Who knows, he may have a Yukon or Northwest Territory Hutchinson! I sent a SASE to a lady once when postage was 8¢, and the rate had gone up to 18¢ before she answered. So, I suppose, never give up, huh?
WHAT'S YOUR FUNNIEST EXPERIENCE CHASING A HUTCHINSON BOTTLE?
I chased one for three or four months only to find out it was an amber, crown top, Certo bottle.
WHAT'S THE BEST HUTCHINSON SODA YOU'VE DUG?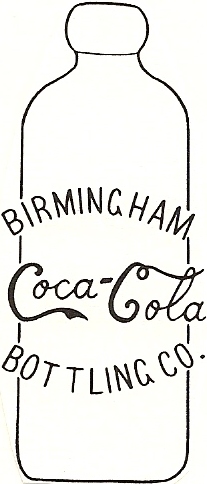 My son and I were digging in a local dump one night and hit a lot of cedar trees and limbs that hadn't decayed. They made it almost impossible to get thru. The only light we had was half of a clay jug stuffed full of rags and saturated with kerosene. It was getting late, raining a little, and I knew I had to work the next day, but I was eager to reach the bottom. Finally getting thru the limbs and trees I dug a Birmingham Coca‑Cola Hutchinson. My son and I kinda played jokes on each other so I slipped the bottle into my front pocket. Eager to see what condition my Coke was in, I made excuses to get out of the hole and let him have it for awhile. He was 12 years old then. Making my way thru the dark to a nearby service station I attempted to wash the Coke at an outside spigot. Before I could get it clean enough to see the condition, my son came running and screaming "Daddy, Daddy, look what I dug!" He also had a Birmingham Coca‑Cola Hutchinson. Both were in good condition for dug bottles. We dug bottles several years at night but this is the most memorable night of all.
HOW DO YOU DISPLAY YOUR COLLECTION?
I have two 10 foot high display units in my den. The shelves are only one bottle wide, so they take up very little floor space. My other shelves are in separate cases, one bottle wide with back lighting. The 50-state collection and a few unusual ones are in one case, and the local bottles are in the other three. I can take a case down and carry it to a bottle show and display about 70 Hutchinsons with little effort. But, I'm out of space and when I mention more shelves, Nell looks at me kinda funny. The female doesn't have to speak all the time for us to get the message.
DO OTHER FAMILY MEMBERS COLLECT SOMETHING? WHAT'S THEIR OPINION OF YOUR COLLECTING?
Yvonne, my daughter, collects matchbook covers. Nell, my wife, likes pretty bottles with decorative shapes and colors. They're not necessarily antiques, but most of them are. They can take or leave my Hutchinson collecting. When a friend drops in they like to join in on showing them off, and sometimes encourage me. Deep down I believe they like them and would miss them should I sell out.
WHAT HUTCHINSONS ARE YOU STILL SEARCHING FOR?
There are lots of ones I know about and don't have:
1. pelican – Lytton Springs, SF;
2. shaking hands – Independent Bottling Works, McAlester, OK;
3. open song book – Jacob Fleck, Phila;
4. crossed flags – C. L. May, Balto;
5. scales – J. C. Buffum, Pittsburg;
6. rooster – M. Menton, Belton, TX;
7. alligator on log – Fla. Brewing Co., Tampa;
8. bulldog – Geo. Haggard, Ottawa;
9. crown – Booth, Prince Edward Island;
10. blue ribbon – Blue Ribbon Bottling Works, Chicago;
11. shamrock – James Meager, New Brunswick, NJ;
12. cave man – Wells Steam Bottling Wks, Galveston, TX;
13. harp – J. A. Lindsey, Columbus, GA;
14. wheat or straw – Lascheid Beverages, Pittsburg, PA;
15. star with rosebud – C. L. Meyers, Rose Bud, TX;
16. magnolia – M. I. & L. Co., Magnolia, AR;
17. arm holding scales – Burns & Armstrong, Toronto;
and many, many more. And there are many out there I don't even know of – yet.
The picture Hutchinson hunt is quite interesting to me, but maybe I'm a bit pixilated. They do come a bit slower now than they have in the past, but I guess this makes a fellow appreciate them more.