Welcome to HutchBook.com!
Note: Permission is granted to quote information from this site only if credit is provided by properly citing the source, including the HutchBook.com URL.
Seeking information about specific Hutchinson bottles? Click the Bottle Directory button in the navigation panel on the left side of the screen to access the HutchBook database cataloguing over 17,600 different Hutchinsons!
Thinking of contacting us? Click the Contact Us button in the navigation panel on the left side of the screen to review our guidelines and contact information.
Looking for a specific Home page article? When each new edition of "Hutchinson Highlights" is posted, the previous articles are moved to an indexed page accessible by clicking this "Archived Hutchinson Highlights" link.
◄◄ Hutchinson Highlights ►►
Posted: May 1, 2013
APRIL HUTCHBOOK HAPPENINGS
April was yet another month where our primary focus was gathering Hutchinson bottle images, filling in missing information in the HutchBook database, and responding to a steady flow of EMail inquiries. We have invested 600+ hours into the Hutchinson Bottle Directory initiative since January 1, 2013 and are on track to set a new record for the year. Helping Charles David Head ready his Koca Nola book for publication, home repairs, and yard work chewed up a major amount of April hours, as did pounding out two more marathons. The spring marathon season continues, with two (or possibly three) more scheduled for May. In spite of such distractions, HutchBook activities remain our number one priority.
During 2013 we have updated 2,006 HutchBook database listings. That number includes the cataloguing of 322 newly identified Hutchinson bottles, boosting the grand total number of Hutchinsons catalogued to 17,608.
HUTCHBOOK PHASE III (ADDING IMAGES) UPDATE
We archived many more Hutchinson images during April. Hopefully we will be able to continue the process of attaching more of them to the database listings during May. Be watching for a Home page announcement when more images are added. We are as anxious to get going again as you are!
Here are a dozen of the Hutchinson images acquired during April. Additional information about each bottle can be found in the Bottle Directory by keying the assigned HutchBook number into the "Bottle Number" field and clicking the "Find Hutchinsons" button: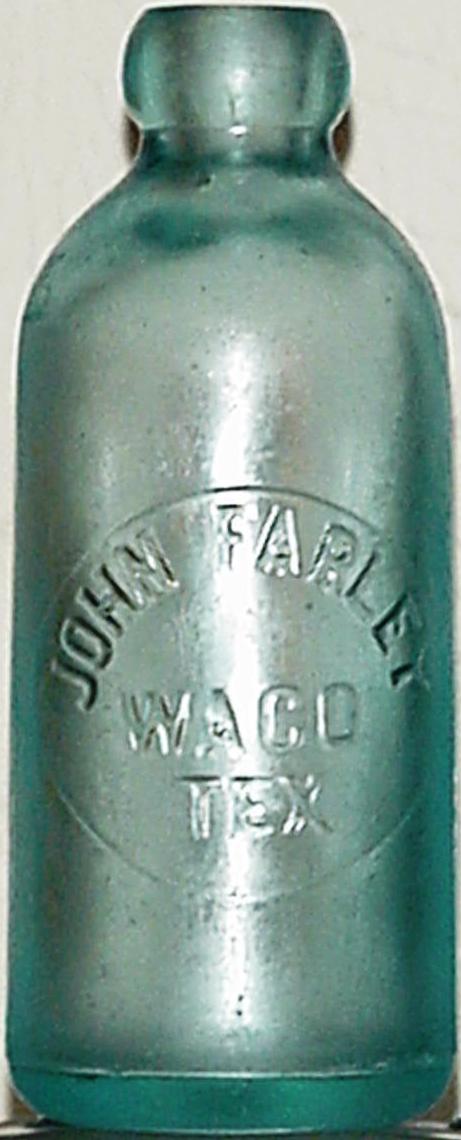 Left to right: FL0093; MT0010; PA1156; TX0735




Left to right: MN0399; MO0167; PA1272; UT0020




Left to right:MS0006.5; NJ0024; OH0050; PA2330
HUTCHINSON COLLECTOR PROFILE: TED PARKS
The featured collector for this edition of Hutchinson Highlights is Ted Parks, a resident of Southeastern Washington State. Check out his Hutchinson Collector Profile and you will likely recognized factors that also motivate you and/or other collectors you know. Here's a link to Ted's profile:
Hutchinson Collector Profile: Ted Parks
Note: If you know of individuals you think would be interesting subjects for future Hutchinson Collector Profiles, please send your suggestions to HutchBook@yahoo.com.
B & B
O

LYMP

E

GINGER BEER MAVERICK - CHICAGO?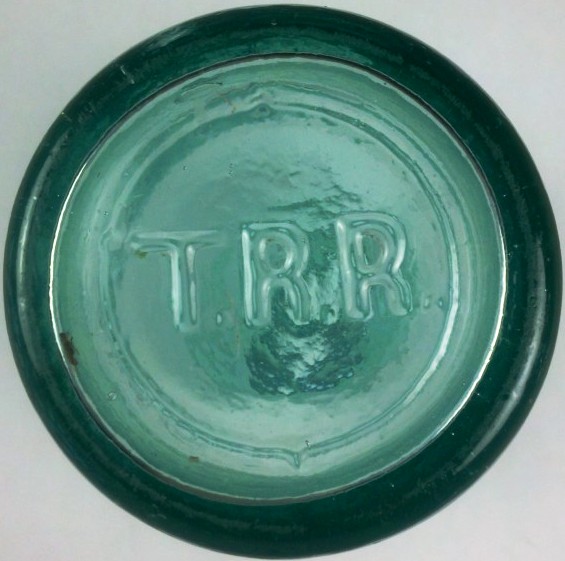 One of our best acquisitions at the 2008 FOHBC Expo in York, Pennsylvania was a copy of Ginger Beer & Root Beer Heritage - 1790 to 1930 by Donald and Elizabeth Yates. In the midst of multiple pages of full-color images of glass ginger beer bottles we spotted a Hutchinson embossed B. & B. / MFR'S OF / OLYMPE / THE NEW / CELEBRATED / GINGER BEER. Unfortunately, the origin of the bottle wasn't identified, so we added it to the HutchBook list of unknown mavericks, hoping one of our regular readers might recognize the bottle. Early in 2009 we received a message from the late Paul Welko, one of our Chicago Hutchinson Specialists and a noted researcher. Paul indicated:
I am almost 100% sure that the B & B ginger beer Hutch is from Chicago as I have 5 or 6 non-Hutch bottles with B & B embossed on them. They range from 12 oz. beer bottles to a quart amber apple cider and a crown top amber Malt Myrhh.
Based on Paul's input, we catalogued this maverick as a Chicago Hutchinson. Nothing more happened until a couple of weeks ago when an example of the bottle turned up on GreedyBay as item #190828782061. An EMail exchange with the very helpful seller revealed this was the very same bottle pictured in the Yates' book. Alas, he had owned the bottle for many years and couldn't remember where it was found. The auction closed with only one bid at the opening price of $49.99 + $9.00 P&H. Someone has acquired a very unusual and attractive Hutchinson.
For now we're going to leave this one catalogued as IL0131, but we need your help! Can you confirm the origin of this bottle? Does the "B. & B." stand for Chicago soda bottlers Blass & Burkhardt? Do you recognize the "OLYMPE" brand name or the T.R.R. initials embossed on the base of the bottle? Help! EMail us at HutchBook@yahoo.com.
FEATURED PATENT: MATTHEWS' GRAVITATING STOPPER
HutchBook.com includes extensive material about closure patents that are frequently confused with Hutchinson's Patent Spring Stoppers. Each of the 30+ listed patents includes illustrations, portions of the inventor's original description of how the closure functioned, and additional comments specifically prepared for users of HutchBook.com. The list of "Stopper Patents" is posted in the Industry History section.
This edition we are featuring John Matthews, Jr.'s Bottle Stopper patent number 67,781 issued August 13, 1867. Bottles that utilized this patent are typically referred to as having a "Matthews Gravitating Stopper." Matthews' patent application specified:

Figure 1 represents a view of a bottle, partly broken away, with my improved stopper applied to closing the neck of the same, showing also, in red lines, its position when open...
My improvement has reference to that description of bottle-stoppers which, being inserted within the body of the bottle, close the latter by bearing against an interior shoulder or suitable construction of the neck, and which, to open the bottle, are forced or pressed inwards, and in this connection more particularly relates to stoppers of the character described in Letters Patent of the United States issued to J. N. McIntire, assignee of Albert Albertson, on the 11th day of October, 1864. But my invention essentially differs therefrom in so constructing the rigid stem or rod, and combining with it, at its inner end, a valvular cap of rubber or other like material, as that the latter not merely serves as a buffer to prevent damage to the bottle, when the stopper is forced inwards, but acts as the valve to close the neck of the bottle...and rendering impossible all percolation of gas or liquid through an intervening portion of the stem, when of porous material, or round the stem, and between it and the valve, as well as preventing loosening or displacement of the valve on the stem on entering the stopper through the neck of the bottle, or by the pressure of gas or liquor acting against the inner end of the stem...
Though my invention is not of necessity restricted to the bottling of any particular liquid, it will here suffice to describe it in connection with aerated liquids, such as soda-water, the bottles containing which may be filled in an inverted position...
Of particular interest is the rubber cap (D) that formed the stopper's valve and sealed against the inner shoulders of the bottle. Charles G. Hutchinson later used this exact same concept when designing his Patent Spring Stopper. Bottles produced by The Firm of John Matthews were typically base embossed GRAVITATING STOPPER MADE BY JOHN MATTHEWS NEW YORK PATd OCT 11 1864. The glass stopper rods were also embossed with a variety of Albert Albertson's and John Matthews, Jr.'s patent dates of August 26, 1862, October 11, 1864, and April 15, 1873.


Bottles that utilized Matthews Gravitating Stopper are frequently confused with bottles that used Hutchinson's Patent Spring Stopper. Matthews' bottles typically have distinctively sloping shoulders, and a narrower applied top than Hutchinson bottles. Most (but not all) of the Matthews Gravitating Stopper bottles have the aforementioned Matthews base embossing. It isn't at all unusual to find Matthews-type bottles with Hutchinson Patent Spring Stoppers intact, as many bottlers continued to use their existing bottles with Hutchinson stoppers as long as the stopper provided an effective seal. This dual-stopper use was facilitated by the fact W. H. Hutchinson and Company intentionally manufactured Hutchinson Patent Spring Stoppers in at least 15 different lengths and diameters.
For HutchBook cataloguing purposes, the following listing guidelines were established:
If a Matthews-type bottle has Matthews base embossing, it was not added to the Hutchinson bottle data base; and
If the base of a Matthews-type bottles does not have the Matthews embossing, it was added to the Hutchinson bottle data base.
The illustrated LEVY BROs / PORTLAND / OREGON bottle contains an intact Matthews Gravitating Stopper and has Matthews base embossing and therefore was not catalogued in the HutchBook database. And although the illustrated TOLEDO BOTTLING / WORKS bottle (from Toledo, Ohio) has an original Hutchinson Patent Spring Stopper in its mouth, this bottle also has Matthews base embossing and therefore was not catalogued in the HutchBook database.
Here's a link to the complete HutchBook posting for this fascinating closure, with more of Matthews' original patent description and illustrations: Matthews Gravitating Stopper
KA-CHING: HUTCHINSONS BRINGING BIG BUCKS!
An increasing number of Hutchinsons have been listed for big bucks at on-line auction sites lately. Auctions for these four bottles caught our eye:




Left to right: FL0167; MI0374; RI0010; SC0002
FL0167 - This is one of the nicest Escambia Pepsi-Cola Hutchinsons we have seen in quite some time, as most examples seem to have quite a bit of case wear and/or damage. The bottle isn't as rare as the seller indicates, but it is hard to find in good condition, and highly desirable because it is the sole embossed Pepsi-Cola Hutchinson. It appears the bidders agree, as it has drawn 11 bids from six different bidders and is at $2,038.00 with just under three days to go. It is listed as GreedyBay #161013678111. Update 05-03-13: The auction closed with 17 bids from nine bidders at $2,938.00.
MI0374 - This beautiful, cobalt blue Hutchinson from Mt. Clemens, Michigan has an opening auction price of $1,799.99 and a Buy-It-Now price of $1,999.99. It has no bids thus far and is listed as GreedyBay #400477212565. Update 05-03-13: The sale closed when someone snapped it up at the $1,999.99 Buy-It-Now price.
RI0010 - When this Hutchinson was first listed we directed the seller to the 13 different Rhode Island HutchBook listings because this bottle isn't "The Rarest Of The Two Known Rhode Island Hutchinson Bottles" as claimed. Alas, that claim hasn't been changed, again proving you can lead 'em to water, but you can't make 'em drink. Even so, this looks like a nice Rhode Island Hutchinson and it is therefore very desirable, particularly by those collectors working on completing 50 state Hutchinson collections. It was originally listed with a $2,000.00 Buy-It-Now price, re-listed with the price reduced to $1,800.00, and just dropped to $1,495 with free shipping. All five offers made thus far have been declined by the seller. The listing has a week to go as GreedyBay #121091866280. Update 05-03-13: Closed without selling.
SC0002 - We had this rare Anderson, South Carolina Hutchinson catalogued but hadn't seen a photo of it until this bottle surfaced. Two bidders chased it and drove the opening $399.00 price up to close at $510.00. It was listed as GreedyBay #251265422627.
FEATURED BOTTLER: SARVER BROTHERS - DAYTON, MICHIGAN
The featured bottlers for this edition of Hutchinson Highlights are the Sarver Brothers, operators of a small bottling plant in Dayton, Michigan. We are very pleased to present this in-depth article authored by Jeff Scharnowske. "Scharno" is a long-time bottle collector and one of several Michigan Hutchinson Specialists who have been making major contributions to the Hutchinson Bottle Directory initiative for several years. His Hutchinson special areas of interest are Berrien and Shiawassee Counties in Michigan. As you read the article and enjoy the information about the Sarver Brothers, also note the detailed research process and documentation of sources. Our thanks for sharing your well-done article!
Featured Bottler: Sarver Bros. - Dayton, Michigan
HutchBook.com Development
HutchBook.com is designed to serve as a widely used reference source that will benefit collectors, historians, archaeologists, and other interested users. The Hutchinson Bottle Collectors' Association (HBCA) sponsors free public access to HutchBook.com. HBCA members support and promote historical research by collecting, preserving, studying, documenting, displaying, communicating, and sharing information about the antique bottles that utilized Charles G. Hutchinson's Patent Spring Stopper.
Since the Hutchinson Bottle Directory initiative's founding in 1976, over 1,000 people have contributed bottle data and related information for this project. The following portions of the site document the project's historical development:
HutchBook.com Implementation
Phase I: Hutchinson History
(launched September 30, 2009)
HutchBook.com Phase I focuses on historical development of the North American soft drink industry during the 1879 to World War I Hutchinson Era. Site content includes extensively researched, factual documentation concerning: the origin of the term "soda pop;" the evolution of bottle closures, including 30+ stopper patents often confused with Hutchinson's Patent Spring Stoppers; a history of the W. H. Hutchinson and Son company; Hutchinson's lawsuits; the American bottling system; pre-Hutchinson Era bottling; Hutchinson bottles; the Hutchinson bottling process; and much more. Printed out, the content is 300+ pages in length!
Phase II: Bottle Directory
(launched August 1, 2012)
HutchBook.com's newest feature is the Hutchinson Bottle Directory, a fully searchable, free access database cataloguing extensive data about over 17,000 different Hutchinson bottles. The powerful new "Hutchinson Search" engine is a gateway to detailed data about the Hutchinson bottles utilized in all U.S. states and territories, Canadian provinces, and several foreign countries. Users have access to numerous pre-defined, printable lists of Hutchinson bottles, plus lists of bottles in popular collecting categories, such as colored and picture Hutchinsons. The database is continually updated to ensure users have access to the most current and accurate Hutchinson information available.
To access the database and its related features, click on the Bottle Directory link located in the left side navigation bar on any HutchBook.com page.
Phase III: Bottle Illustrations
(commenced August 1, 2012)
Phase III is the addition of photographs, scans, and computer-assisted drawings to accompany individual Hutchinson bottle listings. A small sampling of images is now on-line, with thousands more scheduled for posting in months to come.