Welcome to HutchBook.com!
Note: Permission is granted to quote HutchBook information only if the source is properly cited, including the HutchBook.com URL.
Seeking information about specific Hutchinson bottles? Click this Bottle Directory link to the HutchBook database cataloguing over 19,000 different Hutchinsons!
Do you want to contact knowledgeable individuals concerning specific Hutchinson bottles? Click this Collector Specialists link to access the listings.
Unsure if your bottle is a true Hutchinson? Click this Hutchinson Bottle Sales Guide link to review the illustrations and descriptive information.
Thinking of contacting us? Click this Contact Us link to review HutchBook.com guidelines and contact information.
◄◄ HutchBook News►►
Posted: July 28, 2015
Hutchinson Image # 14,000 Posted!
Last week the 14,000th Hutchinson image was added to the HutchBook.com database. We intended to post this announcement right away but have been so busy processing photos and rubbings (and cataloguing new bottles!) that we aren't getting to it until now...
Our 14,000th image was the accompanying photo of HutchBook.com bottle number NJ0052.2, an attractive bottle embossed T. J. DOWNEY / BOONTON, N.J. This Hutchinson is currently up for auction as part of GreedyBay 391207436922, a grouping of two Downey Hutchinsons and one Downey blob top beer listed by seller "bluzinger."
Since posting the previous Home page update we have finished processing the Minnesota and Mississippi paper files and are currently just over halfway thru the Missouri paper file. Missouri is a state where the file is chock full of pencil rubbings thanks to terrific collector support from our Hutchinson Specialists. We have prepared and processed over 100 more very time consuming rubbings so far this month. Check out all of the recently added images!
As mentioned, we are continuing to catalog and add new Hutchinsons to the HutchBook.com database. The grand total as of today is 19,069. Keep 'em coming!
Posted: April 23, 2015 (updated July 28, 2015)
Robert J. Harms Sr. - 1926-2015
We are deeply saddened to report the passing of Bob Harms, an internationally known Hutchinson collector specialist from the Chicago area. When formulating guidelines for the Hutchinson Bottle Collectors' Association's prestigious Hall of Fame Award, Bob was our role model. He was elected as a charter member in 2012. Bob's numerous and lasting contributions continue to inspire and encourage the growth of collecting Hutchinson bottles. Rest in peace, my friend.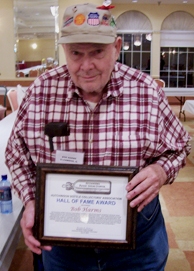 Bob Harms at the 1st Chicago Bottle Club's 2012 show (image courtesy of Ray Komorowski)
From the ChicagoSunTimes.com
:
Harms Sr., Robert J. April 18, 2015, Age 88. Late of Glenwood, Formerly of Riverdale. Beloved husband of the late Barbara Ann Volkman Harms (nee Orseno); dear father of Sharon (Bill) Hogan, Robert (the late Donna) Harms, Jr., Dr. Therese (Rick) Whitt and Carolyn Harms; stepfather of Steven (Victoria) Volkman, Valerie (Paul) Johnson, Denise (Roy) Mueller, Alison Williams, Keith (Debbie) Volkman, Tracy Andrade, the late David Volkman and the late Arthur G. Volkman, Jr. Survived by many grandchildren and great-grandchildren; brother of Albert J. Harms. World War II U.S. Navy Seabees veteran. Former Dolton, IL policeman and fireman. Member of Local 150 MOE. Lifetime member of Federation of Historical Bottle Collectors and active member of First Chicago Bottle Club. He enjoyed sharing numerous stories with family and friends. Resting at the Tews-Ryan Funeral Home, 18230 Dixie Hwy., Homewood, Friday, April 24th, from 3:00 p.m. until 9:00 p.m. Funeral Saturday, April 25th, 9:15 a.m. to St. John Catholic Church, 301 Cottage Grove, Glenwood. Mass 10:00 a.m. Interment St. Mary Cemetery. Memorials to the church would be appreciated. www.tews-ryanfh.com or 708-798-5300.
(Update posted July 28, 2015:
The June 2015 issue of The Midwest Bottle News, published by the 1st Chicago Bottle Club, features two excellent tributes to Bob Harms. Our thanks to club president John Panek for sharing a copy of the newsletter. Here's a link to an article by John posted on the FOHBC web site: http://www.fohbc.org/2015/07/remembering-bob-harms/
This second article was penned by Ray Komorowski, newsletter editor for The Midwest Bottle News:
REMEMBERING BOB HARMS by Ray Komorowski
I once heard it said that when we die, the only things we take with us are the things we gave away. Well, Bob must have given a lot away because there sure are quite a few stories being told about him. There are too many stories and not enough space in this newsletter to print them all. I have a few fond memories and thoughts I would like to share with you.
The first is from a few years back when we were confirming board members for the 2012 season. I remember my name being mentioned for the newsletter chair. By a show of hands yes, and no's, Bob wakes up from his nap and loudly yells NO. He looks over at me and winks, and then promptly goes back to sleep. Now mind you, this was just prior to him and I having a wonderful conversation about how much he likes the new newsletter and me telling him what a fan I was of his newsletter writings. If you read the January 2012 meeting minutes, Bob is recorded as the only No vote.
The other memory I have to share is his award from the Hutchinson Bottle Collectors' Association. Bob Harms was a charter recipient of the Hutchinson Bottle Collectors' Association's "Hall of Fame Award," I took this picture of Bob and the plaque prior to our 2012 show opening up. If only you could see the look in his eyes and how proud he was of this award. He actually had a little twinkle in his eyes as he talked about it. I can still hear him saying "I can't believe they gave this to me."
What a great newsletter editor he was. He could spin a story in a way that made you think that he was right there next to you. Catch phrases like Cowboy Cadillac, Howdy Gang, and his monthly bottle trip reports will live forever in our memories. I actually looked in the Club archives and noticed that Barb and Bob were newsletter editors collectively for 19 years. That just shows the dedication they had to the Club and to our hobby.
Lastly, I regret not seeing his collection in person. I had the opportunity when we had a board meeting scheduled there, but had a family commitment that night. The sad reality is that we may never get a chance to see the Hutchinson Bottling Machine work or see that great Hutchinson collection again.
Thanks for the memories Bob, and remember, "If it isn't a Hutch, its not a bottle."
Updated: March 13, 2015
New Hutchinson Lists Posted: March 10, 2015
The Hutchinson Lists page provides quick access to pre-defined, printable, .pdf lists of Hutchinson bottles from each country, state, territory, and province. Users are finding the Hutchinson Lists a convenient way to inventory their collection, and a handy accessory when attending bottles shows and sales, and visiting antiques shops.
Reminder: the Hutchinson Lists are "snapshots" of the HutchBook.com database as of a specific date and only updated periodically. To view the most current data available(updated daily), always navigate to the Hutchinson Search page and search on the country, state, territory, or province of interest.
Navigate to the Bottle Directory pages to access the Hutchinson Lists menu.
Posted: December 31, 2014
Goodbye 2014, Hello 2015!
Our highest priority for 2014 was to continue posting Hutchinson images, and that has certainly been our focus all year long. We have more than doubled the total number of images posted this year, boosting the grand total to 11,320. All e-photos received via EMail and gleaned from on-line auction sites have been processed and we are steadily working thru 35+ years of paper files. The paper files are very slow going because of the additional time required to scan the images. We have also been posting pencil rubbings where they are the only available image and hope in time to replace them with photos. The Alabama thru Kansas (with the exception of Arkansas) paper files have been completed and we are currently working on Kentucky. Many files remain to be worked, so our goal has been revised to hopefully complete the paper file review by year end 2015, a very challenging objective.
The other 2014 HutchBook priority was the Hutchinson Bottle Collectors' Association. Our repeated attempts to increase interest in the HBCA have not been successful, and any further development has been placed on the back burner for now.
Here are the numbers for 2014:
Daily updates: 360

Individual listings updated: 5,796

New Hutchinsons catalogued: 865

Total Hutchinsons catalogued: 18,793

Hutchinson Lists updated: twice

# Hutchinson images added: 5,820

Hours invested: 1,650
Our thanks to all of you who have provided (and continue to contribute) data and images to the Hutchinson Bottle Directory initiative. Your willingness to share information with your fellow collectors is genuinely appreciated. Today marks the end of our eleventh consecutive year of non-stop effort on this project and it continues to be great fun. On to year number twelve.
Posted: May 19, 2014
Is Your Bottle A "True" Hutchinson?
Numerous on-line auction sellers often do a so-so job of describing the bottles they are listing and are left wondering why their bottles didn't sell. We routinely see Hutchinsons incorrectly listed as whiskeys, milks, medicines, beers, and other categories, and an even broader array of bottle styles incorrectly described as Hutchinsons or "Hutch type" bottles. We understand the challenge facing sellers who have little or no bottle collecting knowledge, but continue to wonder why so many experienced bottle collectors often fail to accurately describe their bottles. Understanding the different types of closures is not rocket science, even for those styles that are often confused with bottles that utilized Hutchinson's Patent Spring Stopper. Several years ago we posted an informational page on GreedyBay in an effort to help novice sellers better describe their bottles and hopefully improve their sales success. So few sellers were finding, reading, comprehending, and using the material that the page was removed and added to HutchBook.com's Collecting section. Please review the expanded Hutchinson Bottle Sales Guide and consider incorporating the suggestions into your on-line bottle listings. Here's a link to the page:
HutchBook.com Development
HutchBook.com is designed to serve as a widely used reference source that will benefit collectors, historians, archaeologists, and other interested users. The Hutchinson Bottle Collectors' Association (HBCA) sponsors free public access to HutchBook.com. HBCA members support and promote historical research by collecting, preserving, studying, documenting, displaying, communicating, and sharing information about the antique bottles that utilized Charles G. Hutchinson's Patent Spring Stopper.
Since the Hutchinson Bottle Directory initiative's founding in 1976, over 1,000 people have contributed bottle data and related information for this project. The following portions of the site document the project's historical development:
HutchBook.com Implementation
Phase I: Hutchinson History (launched September 30, 2009)
HutchBook.com Phase I focuses on historical development of the North American soft drink industry during the 1879 to World War I Hutchinson Era. Site content includes extensively researched, factual documentation concerning: the origin of the term "soda pop;" the evolution of bottle closures, including 30+ stopper patents often confused with Hutchinson's Patent Spring Stoppers; a history of the W. H. Hutchinson and Son company; Hutchinson's lawsuits; the American bottling system; pre-Hutchinson Era bottling; Hutchinson bottles; the Hutchinson bottling process; and much more. Printed out, the content is 300+ pages in length!
Phase II: Bottle Directory (launched August 1, 2012)
HutchBook.com's newest feature is the Hutchinson Bottle Directory, a fully searchable, free access database cataloguing extensive data about over 19,000 different Hutchinson bottles. The powerful new "Hutchinson Search" engine is a gateway to detailed data about the Hutchinson bottles utilized in all U.S. states and territories, Canadian provinces, and several foreign countries. Users have access to numerous pre-defined, printable lists of Hutchinson bottles, plus lists of bottles in popular collecting categories, such as colored and picture Hutchinsons. The database is continually updated to ensure users have access to the most current and accurate Hutchinson information available.
To access the database and its related features, click on the Bottle Directory link located in the left side navigation bar on any HutchBook.com page.
Phase III: Bottle Illustrations (commenced August 1, 2012)
Phase III is the addition of photographs, scans, and computer-assisted drawings to accompany individual Hutchinson bottle listings. Over 13,400 images are now posted on-line, with thousands more to be added in months to come.