Welcome to HutchBook.com!
Note: Permission is granted to quote information from this site only if credit is provided by properly citing the source, including the HutchBook.com URL.
Seeking information about specific Hutchinson bottles? Click the Bottle Directory button in the navigation panel on the left side of the screen to access the HutchBook database cataloguing over 18,000 different Hutchinsons!
Thinking of contacting us? Click the Contact Us button in the navigation panel on the left side of the screen to review our guidelines and contact information.
◄◄ HutchBook News►►
Posted: February 18, 2014
HutchBook Database Growth Continues
When we dove headfirst into HutchBook Phase III (adding images) in August, 2013 we anticipated an increase in the number of Hutchinsons that would be submitted for addition to the database. We were expecting a "bubble" of activity that would taper off fairly quickly. Wrong! Six months later we are still cataloguing new Hutchinsons at a rapid rate. We closed 2013 with a total of 17,962 different Hutchinsons catalogued. Since January 1, 2014 we have added over 170 more, boosting the grand total to 18,133.
Likewise, the number of Hutchinson images posted is steadily increasing. Today's database update will boost the grand total to over 6,400. In addition to new images, we are simultaneously upgrading numerous images with better photos, and double-checking and correcting the accompanying bottle data as necessary.
We are very fortunate to have two of Pennsylvania's major Hutchinson collectors steadily contributing hundreds of photo images of the bottles in their outstanding collections. The total number of Pennsylvania Hutchinsons catalogued has grown to 3,322 and no doubt there are more to come. The following illustration shows three Reading, Pennsylvania Hutchinson images that we recently posted for J. H. Fett & Son:



Left to right: PA2499, PA2499.2, and PA2499.5.
The amber variant was the 3,300th Pennsylvania Hutchinson catalogued. It was posted on GreedyBay last week with a $35.00 Buy-It-Now price (+$5.99 P&H). What, you didn't spot it? That's probably because it took only 14 minutes before an eagle-eyed collector jumped on it. Our congratuations to the new owner of this beautiful bottle!
Speaking of J. H. Fett & Son, here are two of our favorite images, courtesy of Dennis Smith in Buffalo, New York. These picnic attendees were enjoying Fett products. The children are holding Hutchinsons embossed J. H. FETT & SON / READING / PA.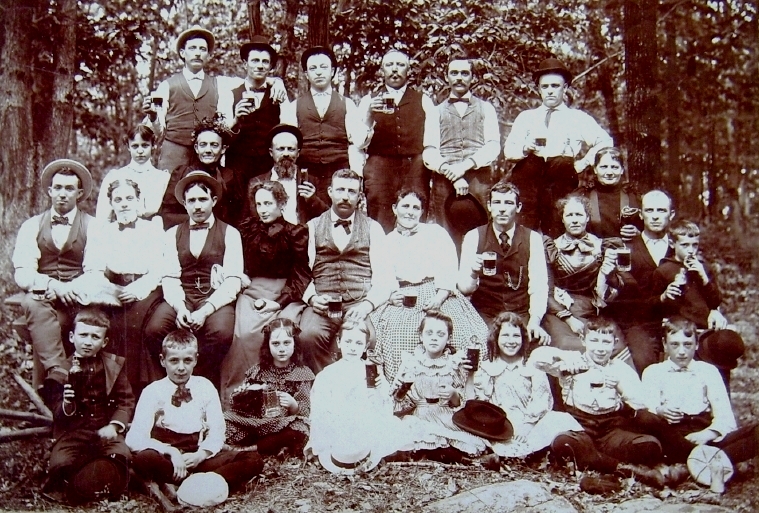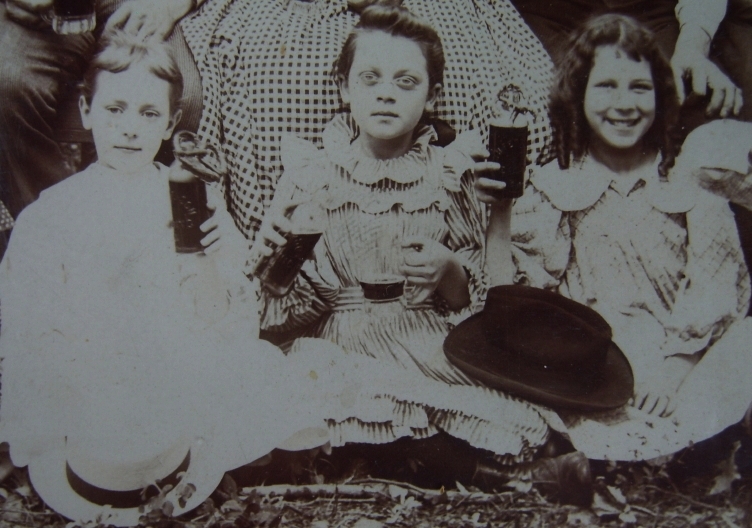 It is time for me to prepare more Hutchinson images for today's database update. I just checked, and at this moment there are exactly 100 unread HutchBook EMail messages containing photos awaiting processing. This week we also borrowed an album with over 500 images of Texas Hutchinsons that will steadily be scanned and added to the database. I am having no trouble staying off the streets at night!
Posted: January 28, 2014
HutchBook Image #6,000 Posted!
During January we have been steadily marching toward the posting of Hutchinson image #6,000 and today we reached this milestone. It somehow seems appropriate that the image is of a bottle that not only originated in a small Pennsylvania town, it is also a variant we hadn't catalogued until today. PA1438.5 is embossed J. J. HASKINS / Mt. LAFFEE / PA. / REGISTERED / THIS BOTTLE NOT TO BE SOLD (near base).
Not by coincidence, the collector who submitted the accompanying image is the same one who sent data and photos of the bottle that turned out to be the 18,000th different Hutchinson we have catalogued. Thanks, Pete!
6,000 is a staggering quantity of images to have posted since focusing on HutchBook Phase III last August. We are now one-third of the way thru ultimately posting images for all 18,000+ bottles listed in the database. We are currently continuing to steadily work our way thru the huge quantity of Hutchinson images received via EMail. On to 7,000!
Deja Vu All Over Again!
Regular readers likely remember the nuked Jacksonville, Florida Hutchinson we featured in June, 2013. It was advertised as an authentic, original, amber Hutchinson, but when the auction winner received it in the mail, he instantly recognized it had actually been irradiated and he was very fortunate to obtain a refund.
The seller has apparently

decided the fallout from last year's ill-fated sale has cleared and THIS FAKE IS LISTED ON GREEDYBAY AGAIN! Unfortunately, the next buyer may not be as lucky as the previous one. The new listing is #151219846882, and states:
RARE !! c1890 AMBER HUTCH SODA embossed on the front " KORNAHRENS & WEDDING JACKSONVILLE,FLA. " and on the back " THIS BOTTLE NOT TO BE SOLD ".The Bottle has hand finished lip with minor wear and there is a small chip about 1/4 in. on the bottom edge.No other chips or cracks, 6 5/8 in. tall.
This bottle is number FL0074 in the HutchBook database. It is known only in aqua and it is Common, not Rare. Once again the seller's listing doesn't reveal that this bottle has been irradiated, turning it a sickly brownish color he is advertising as "amber." It isn't difficult to understand why this seller continues to nuke bottles, given the fact people continue to throw ridiculous amounts of money at them. What baffles me is that buyers are not posting negative feedback, given the quantity of nuked bottles and jars he is routinely peddling. How can NONE of the buyers not realize they have been defrauded? $118.50 for a "citron" Dr. Kilmer's? $55.55 for a "citron" Mason's 1858 jar? This nuked Hutchinson has been re-listed for just over 24 hours and it already has twelve bids from four bidders. No doubt there will be lots more money thrown at it. Wake up people!
Updated February 6, 2014: The auction for this fake drew 22 bids from five bidders and closed at $72.00 + $9.00 P&H. Inspired by how much loot this fraudulent offering brought, another seller (apparently the same one using a different GreedyBay ID) listed a "citron" (also nuked) example of FL0086 as GreedyBay 251443280273 that sold for $59.99 + $9.00 P&H via Buy-It-Now. This seller has numerous other irradiated bottles listed, including a "lite citron" (also nuked) Jacksonville Steam Hutchinson that currently has no bids, but 10 "watchers." It is just a matter of time until it too ends up going to an unsuspecting buyer.
Updated February 18, 2014: Sure enough, the nuked Jacksonville Steam Hutchinson we mentioned above (GreedyBay 251443266581) sold. The seller cut his Buy-It-Now price to $37.49 + $9.00 P&H, and someone just couldn't resist throwing money at this fake. No feedback has been posted thus far. Given the huge quantity of irradiated bottles this seller is peddling, it is amazing the only negative posted came from a buyer who stated "Seller has many irradiated bottles/no mention of color alteration in description" after paying $49.99 for a supposedly amber (nuked) Codd bottle.
Posted: January 18, 2014

HutchBook Posts #18,000!
It is both a "pleasant" duty and a "golden" opportunity to announce the addition of the 18,000th Hutchinson bottle to the HutchBook database.
The bottle is embossed Wm GOLDEN / PLEASANT / VALLEY PA and has been catalogued as PA2399.5. The town may be small, but thus far we have catalogued four different Hutchinsons from Pleasant Valley, so there were definitely plenty of thirsty customers in the area during the 1879-WWI Hutchinson era.
The collector who sent us the accompanying photo is a regular and frequent contributor to the HutchBook Phase III initiative. A special THANK YOU to him and the 1,000+ others who have submitted Hutchinson images. We sincerely appreciate the time and energy you are contributing!
Today's database update pushed the total number of Hutchinson images posted past the 5,800 mark. I am steadily chewing away at the hundreds of images stored in the HutchBook EMail INBOX queue. Don't let that deter you from sending more, however, please keep them coming!
Posted: January 1, 2014
2004-2013: A Look In The Rearview Mirror
Although it seems like only yesterday, a decade has passed since new life was breathed into this initiative. Publishing a hard copy Hutchinson Bottle Directory within five years was deemed impossible when we quickly exceeded the original estimate that there were 7,000-10,000 different Hutchinsons. After serious re-evaluation, HutchBook.com was developed and launched and today users now have free access to what has essentially become a "live book" that is updated daily. I won't rehash the various twists and turns we have experienced; those tracking progress are well aware of the path we have taken, and those who aren't aware probably don't care anyway.
I never imagined that a decade after restarting the project I would still be working on it full time. Although the HutchBook has required far more effort than I originally estimated, I also misjudged how much pleasure would be derived from tackling a challenge of this magnitude and seeing it thru to fruition. While helping Joe Nagy while he steered the project in the 1970s and 1980s, I contributed 2,000+ hours into gathering data, preparing bottle drawings, etc. I have always considered those hours a major contribution to a hobby I have now enjoyed for over 53 years. Hindsight suggests those hours weren't a big deal, considering I have invested over 2,000 hours in 2013, boosting my total HutchBook hours in the past ten years to over 13,000. You can do the math.
Here are the numbers for 2013:
Daily updates: 364

Individual listings updated: 6,164

New Hutchinsons catalogued: 695

Total Hutchinsons catalogued: 17,962
2014: Looking Forward
During 2013, new editions of "Hutchinson Highlights" were posted on the first of each month. We believed the addition of this "magazine style" feature would increase interest in HutchBook.com and boost HBCA membership. We were wrong. Mid-year we added the page hit counter that you may have noticed at the bottom of most HutchBook pages. The counter allows us to track site usage and the numbers clearly document that the primary reason users visit HutchBook.com is to access the database. That is terrific, of course, but it is also disappointing to see how infrequently anyone accesses the other Hutchinson material posted on the site. HutchBook usage accelerated rapidly once the Phase II database was launched, and has continued to grow steadily since we started posting images last August. While I still think the "Hutchinson Highlights" was a sound idea, posting such material may have been premature, or simply not what users are seeking. The Highlights required an average of 20 hours per month preparation time, so I have pulled the plug on them and will devote those hours to two major areas during 2014:
Our highest priority continues to be the addition of Hutchinson bottle photos. As of year end 2013, we had posted 5,500 images. A big THANK YOU to everyone who has contributed images to the project, whether it was one or hundreds. You folks are the cornerstones of Phase III and your efforts are truly appreciated. Depending on the source and quality of the images, some can be processed and ready for uploading in a couple of minutes, while others have required over half an hour of effort. We have worked thru our supply of straight digital images and are now plowing thru those received via EMail. Once those are completed, we will attack the paper files, scanning hard copy photos and rubbings.

The other 2014 HutchBook priority is tackling HBCA membership benefit features that have yet to be fleshed out. The first will be to build and post the membership want lists designed to facilitate communication. HBCA members will hear more about this in weeks to come as we gather current contact information.
Although I am ceasing production of the monthly Hutchinson Highlights, we will continue to post Hutchinson-related news items here on the Home page. Instead of holding items for monthly posting, they will be added as they develop. For example, yesterday's mail brought a copy of American Bottle Auctions' catalog for their Auction 59 commencing January 10. Only a couple of Hutchinsons are offered, but they are worth a look. Visit www.AmericanBottle.com for details.
A side effect of dropping the Hutchinson Highlights is ceasing posting of archived articles. We are maintaining an off-line archive, so if you need a copy of something we once posted, EMail us at HutchBook@yahoo.com.
I will close with another shameless promotion of Charles David Head's new Koca Nola book via the listing information below that was added to the Home page two weeks ago. Click the A Head's Up On Koca Nola link below (in blue) for details on how to obtain a copy of this excellent new publication.
EXTRA!

EXTRA!

EXTRA!
NEW KOCA NOLA BOOK AVAILABLE!
ORDER YOUR COPY NOW!
CLICK THIS TITLE LINK FOR DETAILS: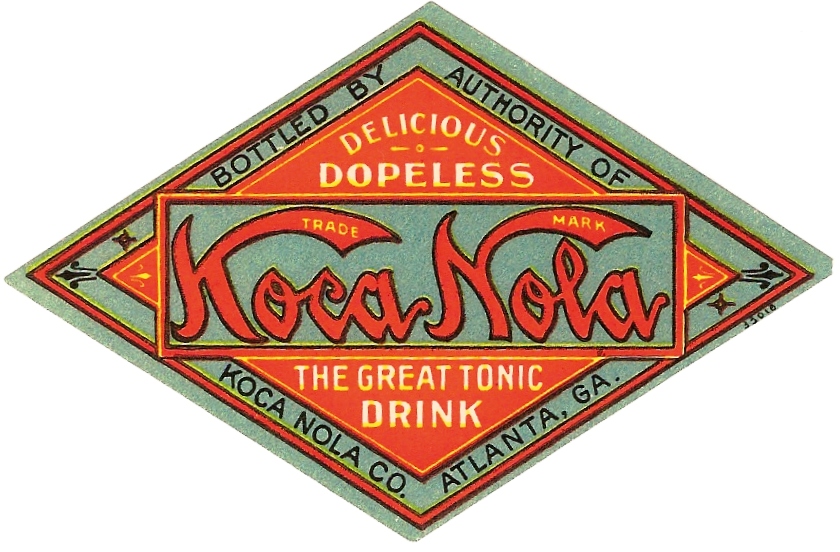 EXTRA!

EXTRA!

EXTRA!
HutchBook.com Development
HutchBook.com is designed to serve as a widely used reference source that will benefit collectors, historians, archaeologists, and other interested users. The Hutchinson Bottle Collectors' Association (HBCA) sponsors free public access to HutchBook.com. HBCA members support and promote historical research by collecting, preserving, studying, documenting, displaying, communicating, and sharing information about the antique bottles that utilized Charles G. Hutchinson's Patent Spring Stopper.
Since the Hutchinson Bottle Directory initiative's founding in 1976, over 1,000 people have contributed bottle data and related information for this project. The following portions of the site document the project's historical development:
HutchBook.com Implementation
Phase I: Hutchinson History
(launched September 30, 2009)
HutchBook.com Phase I focuses on historical development of the North American soft drink industry during the 1879 to World War I Hutchinson Era. Site content includes extensively researched, factual documentation concerning: the origin of the term "soda pop;" the evolution of bottle closures, including 30+ stopper patents often confused with Hutchinson's Patent Spring Stoppers; a history of the W. H. Hutchinson and Son company; Hutchinson's lawsuits; the American bottling system; pre-Hutchinson Era bottling; Hutchinson bottles; the Hutchinson bottling process; and much more. Printed out, the content is 300+ pages in length!
Phase II: Bottle Directory
(launched August 1, 2012)
HutchBook.com's newest feature is the Hutchinson Bottle Directory, a fully searchable, free access database cataloguing extensive data about over 18,000 different Hutchinson bottles. The powerful new "Hutchinson Search" engine is a gateway to detailed data about the Hutchinson bottles utilized in all U.S. states and territories, Canadian provinces, and several foreign countries. Users have access to numerous pre-defined, printable lists of Hutchinson bottles, plus lists of bottles in popular collecting categories, such as colored and picture Hutchinsons. The database is continually updated to ensure users have access to the most current and accurate Hutchinson information available.
To access the database and its related features, click on the Bottle Directory link located in the left side navigation bar on any HutchBook.com page.
Phase III: Bottle Illustrations
(commenced August 1, 2012)
Phase III is the addition of photographs, scans, and computer-assisted drawings to accompany individual Hutchinson bottle listings. A small sampling of images is now on-line, with thousands more scheduled for posting in months to come.